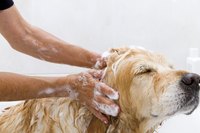 As much as you might love your dog, sometimes even the sweetest pet gets into something that leaves him smelling terrible requiring a dip in the tub. If you don't have doggy shampoo on hand and can't get to the store, you can whip up a substitute mixture with products you have on hand that will get him clean without changing his skin's pH.
Normal Skin pH
Healthy skin keeps viruses and bacteria out of the body, and part of skin health is its pH. A dog's normal skin pH ranges between 5.5 and 7.5, which differs from the normal human skin pH of 5.2 to 6.2. If you alter your dog's normal skin pH by using shampoos made for people, you increase his vulnerability to various types of infection. He also may end up with a lot of bacteria growing on his skin, which can lead to odor. It's best to strike a balance between the alkaline and acidic ingredients of a shampoo so that it falls into the same pH range as his skin.
Deodorize Your Pup
If you have a stinky dog and you're looking for a quick way to get rid of the odor, rinse him with either white or apple cider vinegar. Don't rinse the vinegar out -- let it dry on your dog. Though he may smell like a salad at first, when he dries the vinegar odor will leave along with any other unpleasant odors, leaving him smelling sweet and with a soft, silky coat. You also can use a vinegar rinse after a shampoo for extra deodorizing and softening.
Easy Dry Bath
A simple solution for a dog who is dirty and oily or has a greasy coat is to give him a dry bath with baking soda. Simply shake the baking soda onto your dog, one section at a time, and work it into his coat. A mixture of equal parts corn starch and baby powder will work as well. Be sure it gets all the way to his skin. Brush him out well, removing as much of the powder as possible to leave your pet looking and smelling clean and fresh, without the hassle of water and shampoo.
Homemade Shampoo
For a dog who needs a real bath, make homemade dog shampoo by mixing together equal parts dish soap or castile soap and apple cider or white vinegar. Work the mixture into his coat, along with plenty of water, and rinse well. This mixture is safe for your pet, but keep it out of his eyes and ears because it can cause irritation in those sensitive areas. Don't use this or any other shampoo too often on your pet or you may dry out his skin causing itching and flaking. Avoid ingredients such as tea tree oil, which can be toxic to your pet.