The number of calories you need to consume daily depends on your size, age, activity level and gender. The U.S. Department of Agriculture recommends the average woman consume between 1,800 and 2,400 calories per day, while the average male should get between 2,400 and 3,000 calories daily. The number of these calories that you devote to breakfast depends on how you divide your meals for the day.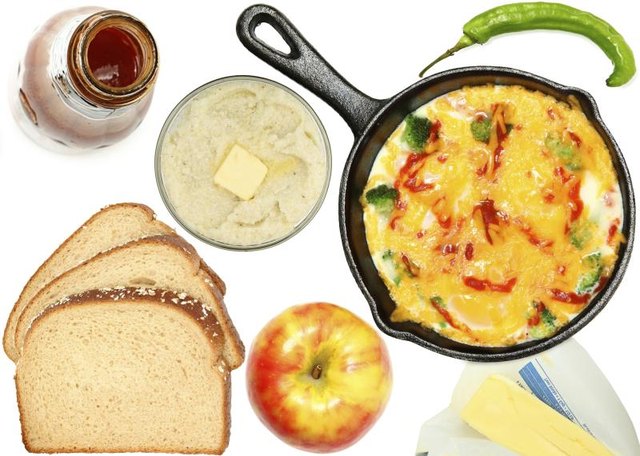 (PhotoEuphoria/iStock/Getty Images)
To evenly distribute your calories among all your meals, consume 600 to 1,000 calories at breakfast, depending on your planned total calorie intake for the day. Consume 50 to 100 fewer calories at each meal if you plan to eat three meals and have a couple of 150- to 300-calorie snacks during the day.
Breakfasts that add up to about 500 calories may include two scrambled eggs served with one slice of whole-wheat toast, a banana and a glass of low-fat milk; or a cup of cooked oatmeal with an ounce of walnuts, 1/2 cup of blueberries and a cup of low-fat milk. Add 2 tablespoons of peanut butter, more fruit or milk and an extra slice of toast or another 1/2 to 1 cup of oatmeal to increase the calorie count. To subtract 50 to 100 calories from meals, choose just half a banana or cut back to just 4 ounces of milk.
A study published in a 2013 issue of the journal Obesity found that among overweight and obese women seeking to lose weight, a breakfast containing 50 percent of their total calories for the day led to greater weight loss. All of the participants consumed 1,400 calories per day, but half consumed 700 calories at breakfast, 500 at lunch and just 200 at dinner, while the other set of participants consumed 200 calories at breakfast, 500 calories at lunch and 700 calories for dinner. After 12 weeks, the women who consumed a larger breakfast experienced greater weight loss and waist measurement decreases.
Promoted By Zergnet