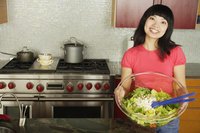 If you have diverticulosis, health care professionals may have cautioned you to avoid foods containing nuts, seeds and corn. However, that advice has changed over the years in light of scientific evidence. Even though some people experience less discomfort when they avoid these foods, many with diverticulosis are able to tolerate all foods -- including nuts, seeds and corn -- in their diets. Speak with your doctor or a dietitian to develop a balanced meal plan for your condition.
Diverticulosis
Diverticulosis is a disease of the colon, which is part of the large intestine. In this section of your bowel, small pouches called diverticula form that can bleed, become inflamed and cause significant pain. However, the diverticula don't always cause symptoms. This stable disease can be managed with diet, such as by consuming 25 to 35 grams of fiber per day, to prevent a flare-up. The National Digestive Diseases Information Clearinghouse states that a high-fiber diet can help prevent diverticular disease.
Diet for Acute Diverticulitis
Acute diverticulitis -- inflammation of the diverticula, or pouches -- can be uncomfortable and require a hospital admission. At this time, resting the bowel can be helpful, and your doctor may require you to limit solid food intake and take clear liquids at first. Soon, you can advance your diet to include pudding, pureed soup and thicker liquids. When your doctor allows a normal diet with solid food, you can gradually introduce all foods; often, even foods in the form of small, hard particles such as nuts, seeds or popcorn are well-tolerated. After the acute flare-up has been managed by your doctor, you should gradually increase fiber intake in your diet.
No Proof That Avoiding Nuts, Seeds, Corn Helps
Years ago, doctors assumed food particles could get stuck in the small pockets, or diverticula, and cause painful inflammation. However, a study published in 2008 in the "Journal of the American Medical Association" looked at 47,288 men with diverticular disease and found that intake of nuts and corn did not increase the risk of diverticulosis or complications. This large study has helped to change the recommendations of medical professionals for patients with diverticular disease. The American College of Gastroenterology states that the effectiveness of avoiding food with small particles, such as nuts and seeds, in the diet lacks proof and is merely based on anecdotal evidence.
Foods That May Be Difficult to Digest
If you are one who has seen a benefit from avoiding foods with small, hard particles, there are several you can look out for. The seeds in strawberries, raspberries and other berries as well as tomatoes could be problematic, as could eggplant, sesame or cucumber seeds. Any type of nut, after being chewed, is broken into small hard pieces; monitor how well you tolerate these. While the kernels of corn are larger and softer, they pass through the intestine largely undigested. Popcorn, though well-tolerated along with nuts in the large "JAMA" study, contains hard-to-digest pieces as well. In general, these foods contain fiber and offer you many health benefits, so you should speak to your doctor about including them in your diet.