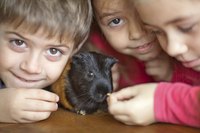 Dermatophyosis, also called ringworm, is a fungal infection of the skin. If your guinea pig is infected, she can be treated with topical and/or oral anti-fungal medications. You will need to isolate her and thoroughly clean her environment to prevent reinfection. At the first sign of any symptoms, take your guinea pig to a veterinarian for evaluation and treatment. Ringworm is highly contagious and can infect other mammals and people.
How Ringworm is Contracted
Your guinea pig can catch ringworm through direct contact with an infected cavy or from contaminated objects, such as her cage or bedding. She will be at greater risk of developing ringworm if she is young, pregnant or her immune system is suppressed. Fungal infections can particularly flare up in the summer months when the temperature and humidity levels are high.
Sometimes, a guinea pig can be a carrier of the fungus without showing any symptoms. She can spread the disease to other cavies, and, if under stress from a poor diet, overcrowding or inadequate husbandry, may develop the disease herself.
Symptoms and Diagnosis
A guinea pig infected with ringworm will usually lose patches of hair and may have red crusty, flaky areas in the bald patches. Any part of your guinea pig's skin can be affected, but the lesions usually first appear on her face and neck, particularly at the nose tip, as a crescent shape under the eyes and around the ears. Ringworm can spread to the back, legs and feet, and may be itchy. If lesions get infected, they become inflamed and pus-filled.
Your veterinarian will make a diagnosis from a physical examination and by taking skin and hair scrapings from the affected areas for microscopic examination and a fungal culture.
Treatments For Ringworm
If your guinea pig only has one or two lesions, your veterinarian may prescribe a medicated dip, shampoo or an antifungal ointment to apply to the affected areas daily for seven to 10 days. If she has more than a couple of lesions, your cavy will need to take an oral antifungal medication for at least four weeks. Your vet may suggest using vitamin and mineral supplements to generally improve your guinea pig's health.
An infected guinea pig will also need to be housed in a separate cage, away from other cavies. To prevent reinfection, thoroughly clean all the cages with an animal-friendly disinfectant. You should also sanitize food and water containers. When handling an infected guinea pig and cleaning contaminated cages, always wear disposable gloves or carefully wash your hands with soap and warm water afterwards.
Check with your vet whether other animals in the household need to be treated.
Go back to your veterinarian before you stop any treatment or return your cavy to her companions. He can confirm the problem's been resolved after one or two negative cultures.
Cage Hygiene and Prevention
You can help to reduce the risk of ringworm by preventing a build-up of contaminated bedding and regularly cleaning your guinea pig's cage. Every week, remove all the soiled bedding and shavings, and scrub the cage, along with any cage furniture, with hot water and soap. After rinsing the cage, spray it with a disinfectant suitable for animals. Make sure you thoroughly wet the corners and joins between the floor and sides. Place clean shavings and bedding in the cage once it has dried. Every day, wash food bowls with hot water and clean water bottles with a bottle brush.