The beet root has been part of folk medicine as far back as the Romans. According to the Talmud, rabbis suggested using beet root to ensure a long and healthy life. Hippocrates learned to use the leaves to heal wounds. Italians used beet root as an aphrodisiac, according to pictures from Pompeii. French chefs were the first to use the roots as a culinary delight around the early 1900s. In India, beet root powder is used for infections and coughs.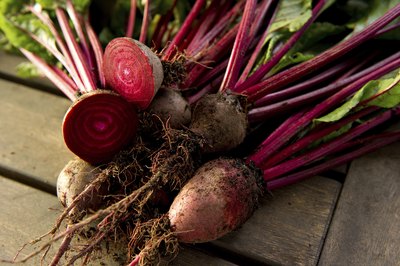 Beet Root Powder Qualities
Betaine is the chemical in beet powder that helps your kidneys and liver process the amino acid known as SAM-e. Betaine is also responsible for the liver's ability to process fat, helping to break down the amassing of fatty tissue. Beet root powder is responsible for lowering triglycerides and LDL cholesterol. Antioxidants in beet root powder also prevent the buildup of arterial plaque. According to the American Heart Association, using beet juice or powder will help to lower blood pressure.
Because beets are so high in iron, beet root powder can help in the fight against anemia. Beet root powder is useful for dealing with headaches, skin dilemmas and lethargy. Cancer researchers are studying beet root powder because of its ability to increase functionality of the immune system.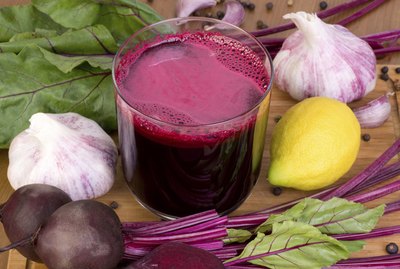 Preparation
Beet root powder comes from the dried root. This powder can be used in foods, smoothies and drinks. One teaspoon of the plum-colored powder is equal to one whole beet. You can use one to two teaspoons up to four times per day.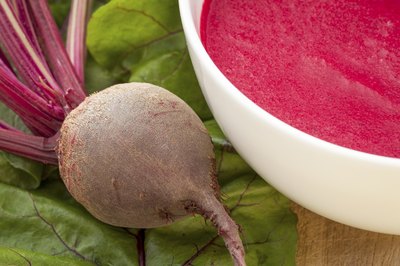 Items That Contain Beet Root Powder
Beet root powder is contained in many food and non-food products. Spaghetti sauces, gravy mixes, salad dressings and dry coatings are just some of the ways that beet root powder enters our lives. Anything made with tomatoes has beet root powder.
The beet root is composed of one-tenth sugar, and is often used in processed foods instead of cane sugar. Some wines are made from the roots of beets; since beet root has such a high percentage of sugar, it is easily distilled.
Beet root powder is used for coloring, from makeup to foods, and is used as a dye for soaps and clothes. Before our modern-day makeup companies, women rubbed beet root powder onto their cheeks for added blush. It is the perfect substitute for artificial red dye, since it does not cause any allergic reaction.