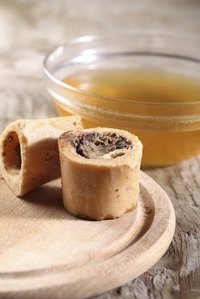 Making the decision to have bariatric surgery to help you lose weight requires a major commitment to changing your diet. Often, those diet changes occur before the surgery with a liquid diet, which is also continued post-op. Before surgery a liquid diet helps start the weight-loss process, while after it assists in recovery and eases the transition to your smaller stomach. Talk to your doctor or dietitian to discuss your liquid diet needs before and after bariatric surgery.
Pre-Surgical Liquid Diet
The liquid diet before your surgery may vary depending on your bariatric clinic guidelines. You need to follow a liquid diet before surgery to promote abdominal fat loss and reduce the size of your liver, which not only makes your surgery easier for the surgeon, but also may improve your recovery time.
The pre-op liquid diet may consist of a variety of liquids such as broth, sugar-free iced tea, gelatin, nonfat milk and a liquid protein supplement.
Intake is typically limited to 700 calories to 1,000 calories a day, with protein goals of 60 grams to 80 grams a day.
The liquid protein shakes can help you meet some of your nutrient needs, but due to the diet restrictions you may need to supplement with a multivitamin and calcium supplement on your pre-op liquid diet, according to University of Florida Health.
Post-Surgical Clear Liquid Diet
After your surgery, start with a clear liquid diet. Due to the size of your stomach and your hydration needs, you may need to sip on liquids regularly throughout the day while on this diet. According to the University of Pittsburgh Medical Center, you'll need 48 ounces to 64 ounces of fluid a day.
Your fluid choices include water, ice chips, diluted fruit juice such as apple or cranberry, broth, sugar-free noncarbonated beverages, decaffeinated tea and sugar-free gelatin or ice pops.
Post-Surgical Full Liquid Diet
After one to three days, or as determined by your doctor, you'll advance to a full liquid diet and follow this diet for three to four weeks. On the full liquid diet you'll be able to consume the allowable clear liquids along with nonfat milk, protein liquid supplements, strained soups and sugar-free pudding. Your goal on the full liquid diet is to consume 48 ounces to 64 ounces of fluid and 60 grams to 80 grams of protein a day.
Tips for Eating
On your liquid diet it's important that you not drink from a straw, consume carbonated beverages or chew on ice because it may cause you to swallow air, which can lead to stomach pain. It's also important to continue to eat slowly, taking small sips at a time to prevent overeating. If you feel full, it's time to stop eating.
Talk to your doctor about vitamin supplements during the liquid phase of your weight-loss diet. You may need to supplement with a chewable or liquid multivitamin to help you meet your vitamin and mineral needs.