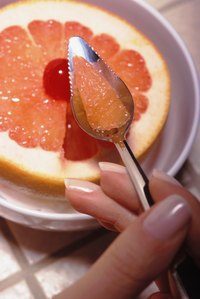 Millions of Americans experience acid reflux from time to time, but when it's severe and recurrent, it's called gastroesophageal reflux disease. A gastroenterologist makes a diagnosis of GERD when you have acid reflux more than twice weekly. If this is the case, work with your health care provider to make the dietary changes necessary to help manage your reflux symptoms. Some guidelines for managing GERD are general, while others are individually determined.
Understanding Gastroesophageal Reflux
The lower esophageal sphincter is a band of muscle that relaxes to allow food to pass and contracts to prevent stomach contents from splashing up the esophagus. In people with GERD, this muscle is weakened, causing it to relax at inappropriate times, which allows stomach acid to flow backward into the esophagus. This causes irritation of the lining of your esophagus and symptoms such as burning sensations in your chest, abdominal bloating after meals, sore throat and dry cough. A GERD diet is designed to prevent or relieve such symptoms.
Avoid Triggers
High-fat meals are a common GERD trigger. One of the first steps to managing GERD symptoms is to lower your fat intake. Fatty and fried foods cause the LES muscle to relax, increasing your risk of GERD symptoms. It's also imperative that you avoid eating large meals because doing so increases gastric pressure and promotes reflux. Other common GERD triggers are chocolate, alcohol and acidic foods like tomato, citrus fruits and salsa. In addition, coffee, garlic, onions and spicy foods are triggers for some people.
Safe Foods
Certain foods may trigger reflux in some people and not others. Keep a food diary to help determine which foods cause problems for you. In general, a balanced, low-fat diet rich in fruits, vegetables and lean protein is good for people with GERD. Fiber in the form of fruits and vegetable may be of particular benefit to GERD sufferers. Choose a wide variety of fresh, frozen and canned vegetables and fruits, except acidic ones. Apples, berries, bananas, melons, peaches and pears are recommended. Have reduced-fat dairy, as well as chicken, fish, turkey and lean cuts of beef and pork such as loin. Whole grains such as brown rice, whole oats, bran and whole-wheat are good too. Avoid adding extra oils to your foods. Instead, use cooking methods like grilling, broiling and baking.
Lifestyle Modifications
Making certain lifestyle changes also helps prevent and treat GERD. Symptoms are typically worse at night, so try to avoid eating within three hours of bedtime. If you smoke or use any other form of tobacco, take steps to quit because nicotine weakens the LES muscle. Remain upright when eating and avoid lying down immediately after. If you're overweight, work with your health care provider on a plan to shed some pounds. Being overweight increases the risk of GERD. In addition, avoid clothing that is tight around the stomach, which increases pressure. Limit or avoid chewing gum or hard candy because the increased air you swallow when doing so increases the risk of GERD symptoms.