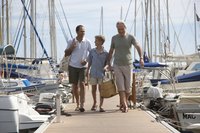 When it comes to choosing men's shorts, it's all about the knees. Shorts that hit mid-thigh are suitable for runners only, unless you have a higher-than-normal level of confidence -- and good muscle tone. Shorts that fall much lower than the knee veer into the no man's land between shorts and pants. The best option for most might be called "Goldilocks length"-- not too long, not too short.
Your Best Length
When in doubt, the most universally flattering shorts hit men right at the kneecap. A simple, unadorned style and a solid color or subtle print suits most casual occasions. Depending on your height and leg length, look for an inseam between 9 and 11 inches. Avoid pockets for a slim silhouette -- they add bulk around the thigh area.
Other Factors
Shorts that hit 1 to 2 inches above the knee look best in a slim fit and can help lengthen shorter legs. Men who are less open to showing skin or who have long legs or may choose longer shorts -- those that hit no more than an inch below the knee. These are often called board shorts and tend to look more casual than a shorter style. Heavier builds tend to look best in shorts at knee length or just below the knee in a regular or relaxed fit.