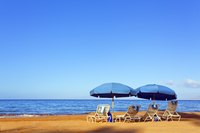 End-to-end beaches embrace Maui's crescent-shaped southwestern coastline, among them Wailea beach in South Maui, home to some of the island's most luxurious vacation properties. Grand Wailea Resort Hotel and Spa is one of five exclusive resorts in a district famed for spectacular ocean views, golf courses and some of the world's finest whale-watching. After landing at Kahului Airport, you'll find ground transportation off the baggage claim area.
Shared Shuttle: The Cheapest Way
The Maui Airport Shuttle Service, operated by Roberts Hawaii, opens at 5:30 a.m., closing only after all passengers from the last flight of the day have found transportation. Roberts drops passengers at various hotels, but guarantees no more than five stops. Prices depend on the number of passengers, but if four are along for the ride, the airport's posted price as of mid-2014 was $12 each. SpeediShuttle also offers a shared shuttle service.
Direct Taxi: The Fastest Way
All Maui taxis have metered rates, so no matter which company you use, you'll pay the same. According to mid-2014 prices cited by Kahului Airport, it costs about $57 to get from there to Wailea, and the drive takes about 35 minutes. Reservations are accepted, but not required.
Pre-Arranged Transportation
If you'd like a shuttle bus or limousine waiting for you as soon as you exit the airport, you'll need to book ahead. Grand Wailea recommends SpeediShuttle and Arthur's Limousine.