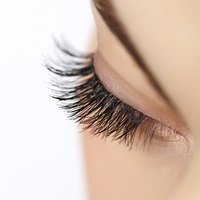 The quest for thick eyelashes has lead many women to tirelessly test a handful of eyelash products ranging from lash thickening mascaras, false lashes and even prescription drugs for lash growth. One home remedy that has some support for its purported lash-thickening effects is castor oil. Known for its anti-inflammatory and anti-bacterial properties, castor oil has also been lauded as a natural eyelash thickener.
Why Castor Oil?
Castor oil may work to help thicken and lengthen your lashes through its acidic content and low molecular mass. It also contains ricinoleic acid, an anti-inflammatory and antibacterial substance which also acts as a moisturizer for skin and hair. Castor oil's low molecular mass allows it to go into hair follicles and eliminate any bacteria or dirt that may prohibit eyelash growth. This could promote the growth of thicker lashes.
Applying Castor Oil
Use castor oil on your lashes at night, before bed. Dip a cotton swab into the oil and apply it along the top of your eyelashes as if you were putting on eyeliner. Make sure the swab isn't too wet. If it's dripping with oil, you've used too much.
Leave Castor Oil on Overnight
When you wake up in the morning, wash the oil off with warm water. Repeat nightly for a period of three to four weeks; you may see a difference in the thickness of your lashes at the end of the three- to four-week period.
Warnings When Using Castor Oil
If you plan to try out this home remedy, only purchase pure castor oil that's cold-pressed. It's important that the castor oil be all-natural castor oil with no other additives because extra chemicals could clash with the oil and decrease its effectiveness. Try not to get it in your eye as it will cause irritation and avoid getting it on your clothes because it stains. People with existing eye conditions should stay away from using castor oil on lashes.