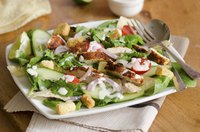 Ultra Lite is a medically supervised weight-loss program offered at weight-loss clinics throughout the nation and abroad. Weight management is a vital issue in the United States, with close to 70 percent of American adults considered overweight, according to the Centers for Disease Control and Prevention. If you've had trouble losing weight on your own, a medically supervised program may help you achieve your weight-loss goals.
Ultra Lite Program Premise
As with most weight-loss approaches, the Ultra Lite system is a controlled-calorie program. The program entails eating three meals per day consisting of a balance of protein, vegetables, fruits and fats. You also take a packet of vitamins and protein powder mixed with water to make a small shake several times a day. The diet plan is medically supervised, meaning that a registered clinician will monitor your progress. A staff member will provide you with support on what foods to choose and teach you how to portion your meals. The goal is to give you the tools you need to meet your long-term weight-loss goals.
Expected Weight Loss and Cost
The Ultra Lite program is typically structured in five-week intervals. Women can expect to lose 1 to 3 pounds per week, and men can expect to lose 2 to 4 pounds per week, according to West Oaks Chiropractic Clinic. Individual weight loss may differ, but it's common for people to lose up to 18 to 20 pounds in the first five weeks, according to the clinic. Typical cost for the program is $495 for the initial five weeks and $450 for any subsequent five-week program. The cost may be more or less depending the clinic you choose.
Calorie Intake and Supplements
You won't have to count calories on the Ultra Lite program, but the average patient following this approach consumes about 1,200 calories per day, according to the Hall Plastic Surgery and Rejuvenation Center. In between meals, you'll take Ultra Lite supplements in the form of four Ultra Light packets each day. The supplements consist of vitamins, minerals and amino acids to help you maintain optimal health while following a low-calorie meal plan. Because 1,200 calories is considered quite low, the nutritional supplements are designed to help prevent nutritional deficiencies.
Deciding if It's Right for You
Contact a clinic near you and make an appointment for an initial consultation. This gives you the opportunity to ask any question you may have and speak with a clinician to determine if the program is right for you. Let the clinician know about any pre-existing health conditions such as diabetes, high blood pressure or high cholesterol. In addition, discuss any food-specific conditions you may have, such as gluten intolerance, nut allergies or lactose intolerance. It's a good idea to talk to your general practitioner first to get approval before beginning the program.