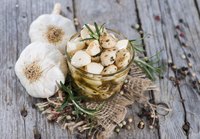 Also called "nectar of the gods," garlic has been consumed as both a food and medicine since the Egyptians built the pyramids, according to the University of Maryland Medical Center. Garlic has a number of health benefits, including reducing risk of heart disease and protecting against cancer. It may also assist in your body's natural detoxing process. Consult your doctor to discuss how garlic might benefit your health.
What's in Garlic?
Garlic contains antioxidants, amino acids, minerals and vitamins. However, allicin, a sulfur-containing phytochemical, may be the most beneficial component in garlic. Allicin may have antibiotic, antiplatelet and antihyperlipidemic properties, according to the Memorial Sloan Kettering Cancer Center. Allicin also acts as an antioxidant protecting cells from oxidative damage, which may help prevent atheresclerosis and cancer. Further, the phytochemicals in the garlic may assist your body in its natural ability to detox itself, says a 2014 article published in Today's Dietitian.
How Your Body Detoxes
Despite what many diets claim, you do not need to follow a severely restricted juice fast to cleanse your body of harmful substances. Your body has a natural ability to detox itself through a biochemical process that turns toxic substances into water-soluble compounds eliminated in urine, feces, bile and sweat. Your kidneys and liver play a major role in the detox process. To keep them in good working order and thus keep your body from accumulating substances that cause damage, eat a healthy diet that is low in fat and high in fiber.
Garlic and Detox
As a food with health-promoting nutrients, garlic may help improve your body's ability to detox itself. Detoxification occurs in two to three phases, according to the Today's Dietitian article. During phase one, enzymes in your body work to destabilize the toxins, and in phase two the substances are further metabolized into water-soluble molecules and excreted in urine or bile. The phytochemicals in garlic may assist in the induction of the enzymes during phase two of the detox process, says Today's Dietitian. The study of body detoxification is very new, and more research is necessary before formal recommendations can be made.
Eating Garlic and Warnings
Allicin is an unstable substance, and heating garlic reduces its activity. If you want to get the full effects, it's better to eat your garlic raw and crushed. The constituents in garlic may interfere with how certain medications work, including blood thinners and insulin, making it important that you discuss possible drug and food interactions with your doctor or pharmacist.