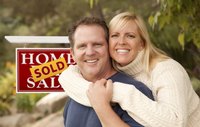 Home purchases require a sizable down payment if a mortgage is required, and even more cash if you are buying the property outright. In either case, the task of accumulating the funds necessary can be a difficult one. There are many ways to go about saving for your purchase, but the best ones will help you get there quicker and more easily.
Second Income
Seeking out a second income can quickly increase the amount you are able to save each month toward your overall goal. Continue to budget your main income as before, putting some away each month and working toward your goal. Dedicate your entire second income as savings and watch how fast the nest egg builds. Depending on the amount you make, you can cut the time it takes to save in half or perhaps even more.
Reduce Interest Rates
Reduce the payments you already make on a monthly basis so you have more free cash to sock away. Refinance everything from credit cards to auto loans with lower overall interest rates. The resulting payment should be lower than all your payments were individually, which should provide you with extra money in your budget to save for a house. Even your payment on federal student loans can be reduced and adjusted to suit your needs.
Lower Your Rent
Consider moving to a smaller rental while you save. A reduction in rent of $500 per month adds up to about $12,000 in just two years. Although it may be a bit of a hardship to downsize from the space you are used to into a smaller, less-desirable option, the long-term benefits can easily outweigh the short-term disappointment.
Cut Back
If you drive a new or newer car, switch to an older vehicle and apply the difference to your savings. If you have toys like a motorcycle or boat, sell them and save all the cash you would have spent on gas, insurance and upkeep. If you spend on luxuries such as season tickets or summer rentals, pass for a few years and put the money toward your purchase. Even smaller expenses like a home telephone or cable TV can be eliminated and the funds diverted to a home purchase.
Individual Development Accounts
If you fall into the category of a low- or moderate-income earner according to federal statistics, you may be eligible for an Individual Development Account. Organizations throughout the country offer programs that provide savings accounts with matching dollar benefits, allowing savers to accumulate twice the funding in half the time with the assistance of government monies, and as long as the funds are used toward asset-building purposes like the purchase of a home.
Where to Save
Certificates of deposit are among the best places to save for your home. They offer a set rate for a set period of time at low or no risk and prevent you from touching the funds within while allowing withdrawal at the proper time. If you would rather do the planning and saving on your own, consider putting away the difference between the rent you pay now and your projected mortgage payment each month. This will build a nest egg while helping you to judge whether you will really be able to afford a mortgage and getting you accustomed to making the payment.