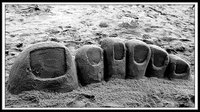 Toenail fungus is an infection that can penetrate one or more nails. It may begin as a small spot under the tip of the nail and progress deeper. As it spreads, the toenail can discolor, thicken, and crumble. The result is an unsightly and painful nail that is brittle, distorted, yellowed, or dull. Nail fungus can recur unless it is completely eliminated; several treatments are available to cure and prevent infections.
Prescription Treatments
Nail fungi are small organisms that require warm moisture to survive, which means that they thrive inside shoes and socks. This makes toe fungus especially difficult to treat.
Prescription treatments include the oral medications terbinafine and itraconazole. These help grow a new nail that slowly replaces the infected one. However, the growth process can be long -- sometimes taking up to six months.
Prescription antifungal lacquers can also be applied to nails to clear up infections; this process takes about one year.
Doctors may also recommend filing or surgery to remove the infected nail.
Over-the-Counter and Alternative Treatments
Some over-the-counter treatments have proved effective. These medications are topical and typically contain urea, an organic compound that helps speed absorption. While typically used for athlete's foot, Lamisil spray can also be applied to the infected area to help relieve symptoms.
Other alternative or organic-type treatments have proven successful by some patients. Applying tea tree oil to the infected area can eliminate infection; so can hydrogen peroxide or white vinegar. Other effective treatments include drinking a small amount of organic apple cider vinegar daily, soaking nails in Listerine or other mouthwash, or taking B-complex vitamins daily. Painting nails with gentian violet extract or rubbing Vicks Vaporub into the toes and around the nails is also recommended.