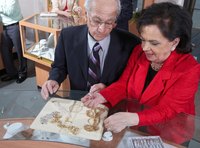 If you have a collection of heirloom fashion jewelry, that contains both real and costume gemstones, a jewelry appraisal will help you determine the difference between the authentic gems and the antique paste. A qualified appraiser will be able to tell you if each stone is genuine, is heat-treated for color, is damaged internally or is flawed in cut. The cost of an appraisal, however, depends on the depth of information required, so if you need only a simple appraisal for insurance purposes, a local jeweler may be adequate.
Importance of Appraisals
Unless you are a trained gemologist, or are buying a gem from a trustworthy source such as Tiffany & Co. or other highly respected jewelry companies, you should have an appraiser look at any gemstones before purchase. An appraisal will establish a value for a loan or insurance, estate valuation or other tax concerns, a divorce settlement, purchase or simple curiosity. If the stone is unusual in size or cut, the appraiser might even be able to tell if it has been stolen. An up-to-date appraisal letter accompanied by a lab certification is recommended for any important stones of considerable value because, if they are stolen or damaged, it is easier to support your insurance claim and give a detailed description to the police.
Appraiser Certifications
The industry standard for gemological appraisers is certification as an ICGA (Independent Certified Gemologist Appraiser), which is conferred by the American Gem Society. There are other certification organizations, so if you are unsure of the qualifications of a particular appraiser, you should ask for a referral from your insurance agent or attorney. Important or unusual stones should be accompanied by a lab certification from the Gemological Institute of America, Hoge Raad voor Diamant or the American Gem Society.
Locating an Appraiser
Almost any well-regarded jewelry store, pawnbroker or lapidary can appraise a gem if you need a simple appraisal for insurance purposes. Before selecting an appraiser look for at least one certification from the ICGA, American Society of Appraisers, International Society of Appraisers or National Association of Jewelry Appraisers. Each of these societies can refer you to a member appraiser. Any reputable auction house, insurance company, tax or estate attorney can recommend a good gem appraiser as well.