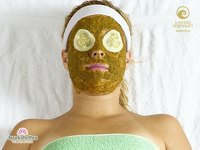 As a group, aging women pour billions of dollars a year into the beauty and cosmetics industries. Chemical peels are popular for the smooth, glowing qualities they give your skin. They will not prevent or slow the skin's aging, but they can make it look more youthful and smooth.
Function
Chemical peels slough away the outermost layer of your skin. This gives the skin a smoother feel, helps to even out skin pigmentation, improves acne, smooths rough, dry patches and gives you a brighter skin tone. Using chemical peels over time can even minimize scarring and wrinkles.
Remedies
Fruits and vegetables contain alpha hydroxy acids (AHAs). AHA is the main component of one of the three different types of chemical peels. While you can use an AHA chemical peel at home, only skin aestheticians and physicians can administer phenol and trichloroacetic acid (TCA) chemical peels, which are expensive.

The skin-care.becomegorgeous.com website recommends making the following chemical peel for aging skin: Place a small cucumber in a food processor and grind it up. Remove the juice from the pulp by pressing it through a tea strainer. You can toss out the pulp. Microwave 2 ounces of green tea and 2 ounces of chamomile tea in a microwave-safe container until it is warm enough to dissolve 1 tbsp. of plain gelatin. Next, add the cucumber juice into the container along with 1 tsp. of aloe vera gel. Stir the mixture well and apply a thin layer to your face. After about 15 to 20 minutes, the facial peel should be dry enough to peel off. Rinse your face with lukewarm water and pat dry. This peel will lessen wrinkling, improve your skin clarity and rejuvenate the skin after repeated weekly use. 


A simpler way to make a chemical peel is to mix ¼ cup each of fruit juice and herbal tea with one package of plain gelatin. Heating in a microwave or double boiler is best. A thin layer of this on your skin will dry quickly, and you will feel the tightening effect on your skin. It draws blood to the surface of your face and rejuvenates the skin tone. Simply peel it off, rinse and dry. 

You could also combine ½ cup fruit or vegetable juice with 1 tbsp. of plain gelatin to make an effective chemical peel. Heat this mixture, let it cool slightly, apply to the skin, let dry, peel and rinse thoroughly. Cranberry juice is appropriate for all skin types. Carrot or apricot juice is effective for those who suffer from dry skin. Grapefruit, lemon or tomato juice is perfect for oily skin. 

You should use a chemical peel once a week. At first, you may experience redness, some flaking, dryness or stinging, but this should decrease as your skin becomes accustomed to the alpha hydroxy acids in the peel. Remember to protect your skin from the sun after a peel.