Do you suffer from nighttime leg cramps? Have you found any satisfactory methods of leg cramp relief? Taking an over-the-counter pain reliever is a common way to deal with nighttime leg cramps. Unfortunately, you will be rolling around back and forth in bed as you wait for the pain reliever to take effect. Meanwhile, you probably, unknowingly, have one of the best leg cramp remedies sitting in your kitchen: mustard.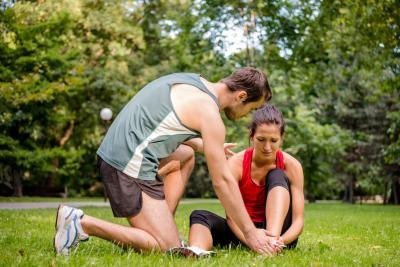 Causes of Cramping
Nighttime leg cramps can have a variety of causes. Most commonly, the cramps are caused by the body's shortage of minerals, such as calcium and magnesium. A shortage of acetic acid can also cause cramps. The body uses acetic acid to produce acetylcholine, which is essential for leg muscle contractions. This is why mustard is effective for leg cramp relief. Mustard contains acetic acid. Throughout sports history, coaches have instructed athletes to use mustard for leg cramp relief.
Taking Mustard
Yellow mustard is the only kind of mustard documented to relieve nighttime leg cramps. When nighttime leg cramps occur, take a teaspoon or two of yellow mustard. The mustard should take effect almost immediately, allowing you to easily get to sleep. The immediate relief is believed to be related to turmeric, which is used to give yellow mustard its color. Turmeric has many anti-inflammatory properties which are believed to enable the immediate relief. If you find yourself frequently taking mustard to relieve nighttime leg cramps, see a doctor. Constant nighttime cramping could be an indicator of a more serious medical problem.
Preventive Stretching
If you don't want to use mustard, there are alternative methods of leg cramp relief. One such alternative is stretching. Working some stretches into your bedtime routine is a preemptive strike against nighttime leg cramps. Stretch your calves and any areas you have previously experienced cramps in. Employ the "stair stretch" and "runner's stretch" before bed. For the stair stretch, stand at the edge of a step and drop your heels while holding the railing. For the runner's stretch, stand against a wall and step forward with one foot while keeping the other foot flat on the ground. The stair stretch and runner's stretch are most effective when held for at least 30 seconds.