It's easy to over pack for any vacation, especially if you've never been there. Remember when heading to Florida that Walt Disney World is a casual, family atmosphere and pack accordingly. Save some room in your suitcase by buying T-shirts in the parks or at a souvenir shop, and then wear them the next day. Make a list of everything before you go, and make sure you include any special items you might need.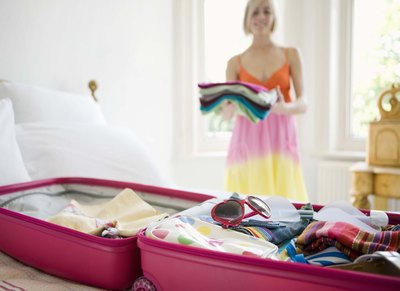 Essentials
There are a few items you need at Walt Disney World. The most important is a pair of sturdy walking shoes. Sneakers are fine, just make sure they're comfortable and broken in to avoid getting blisters; you will walk miles in the parks. Another must-have is sunscreen. Don't underestimate the Florida sun, it's possible to get burned even on a cloudy day. A sunburn not only will make you miserable, but there are health risks involved, too. Along those lines, bring a hat; it's the easiest way to keep the sun out of your face. Wear protective sunglasses to shield your eyes.
Basics
Check the weather before you go, and pack your clothing accordingly. Shorts and T-shirts suffice on warmer days, but if you're traveling during the winter you'll want a light jacket. You might want to bring a second pair of broken-in walking shoes in case the first pair gets wet. Bring a bathing suit, water shoes and beach towels if you plan to visit the water parks. Also make sure you pack bandages, pain reliever, lip balm and any medications you may need. Many people pack moleskin in case they get blisters. Don't forget your everyday toiletries such as toothpaste and deodorant, and pack your address book and stamps for postcards.
In the Parks
A fanny pack is the easiest way to carry everything. It's hands-free, and you can take it with you on the rides. Bring a camera and an extra memory card or film; they're expensive in the parks. Granola bars or fruit snacks don't take up a lot of room and will help save a bit of money. You might want a lightweight rain poncho (available at most dollar stores) for the infamous afternoon storms. A handheld fan comes in handy during the summer. You might want to consider bringing an empty water bottle to fill up at the water fountains to help stay hydrated and avoid the high cost of drinks. If you're looking for characters, bring an autograph book and thick pen.