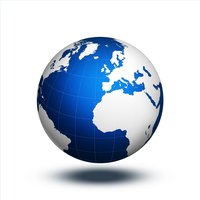 Successful multinational companies look to international markets for growth and expansion opportunities. Companies pursue profits through either a standardization approach that reduces overhead expenses, or a country customization approach that tailors products to different product desires. The best global business strategies maximize revenue and look for cost-efficient management methods.
Standardization
Take advantage of cost-effective product standardization methods to enhance your global business profits. Use your standard products and only customize features required by legal differences in foreign countries. For example, if you sell potato chips, sell the same chips, but change the packaging to reflect language and legal disclosure differences. You can produce your goods in one facility and obtain economies of scale, and lower the cost to enter multiple markets.
Standardization allows you to expand quickly globally. Use a standardization approach if your product is universally accepted without many changes. To maximize profits, place your product in as many countries and markets as possible.
Centralization
Centralize your management, distribution and marketing efforts from a single location for a unified approach and enhanced coordination. Consider outsourcing or hiring small numbers of employees on a regional basis for location-specific requirements and duties. For example, have your marketing team craft messaging, materials and strategy at your headquarters. Hire a regional marketing coordinator who works with marketing distributors such as radio stations and newspapers to disseminate materials in local markets.
Centralization allows you to make decisions from a corporate vantage point, rather than from country-specific views. This can be especially helpful when making spending decisions. Centralization is more effective when local knowledge is not essential for success and product customization needs are low.
Tailored Products
Target different customer segments by local and regional differences by tailoring your products to local tastes. Customize colors, packaging and product features to suit the preferences and buying patterns of local global consumers. For example, if you sell cookies, modify your packaging to feature small, lower-cost containers for markets in emerging nations. The more you tailor and customize your products, the better chance you have for maximizing sales and dominating each market.
Customization works best for food products, software products and any product that needs customization to function. For example, if you sell hairdryers, you would need to customize the electrical plugs based on the power system in each country. Use a customization strategy if producing products and sourcing local raw materials is more cost effective than producing and distributing from one location
Decentralization
Decentralize your management, distribution and marketing for a market-driven business strategy. Create regional or country specific offices and give them control over most of the marking and product management decisions based on their expertise. Some products sell better and are more widely accepted if consumers can relate to the product. It is difficult to craft targeted marketing messages and make product-specific decisions from a centralized location.
Decentralization allows you to take advantage of local expertise that can drive local success. Use a decentralization strategy for products that require a high level of support. Some countries, like China, may require a local presence or a joint venture with a local firm for you to sell your products. Consider using a decentralization approach if local input is critical to the long-term success of your product globally.