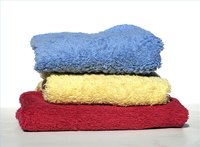 Many body aches, pains, and ailments can be dulled or diffused by a well-placed heat compress. While heating pads can be expensive, and disposable heating pads don't always hold up to frequent use, homemade hot compresses can save money and generally last much longer than disposables. Most of these compresses can be made using everyday household items.
Warm Washcloth
While this method is often not the most effective, it is definitely the quickest. Simply wet a small washcloth with hot tap water and you've got the quickest homemade heat compress possible. The major problem with the warm washcloth method is that it cools far too fast. Constant re-wetting is necessary to maintain needed warmth.
Towel in a Bag
A longer-lasting yet still quick solution for a homemade hot compress is to heat a damp or dry bathroom towel in the microwave for a few seconds to a few minutes, depending on desired heat level. Place the folded towel in a large resealable storage bag and apply to desired area. This method takes a little longer than the warm washcloth, but the heat has been known to last for up to an hour.
Sock Compress
The sock compress will take a little higher time investment to create, but the heat can last for hours. Fill a new or clean used tube sock with dry and uncooked rice, beans or oats. Sew or tie up the open side of the sock securely and microwave for a few seconds to a few minutes, depending on desired heat level. This kind of compress can be reusable for months and can even act as an effective cold compress if left in the freezer for a few hours. Also, try adding a pinch of cinnamon, cloves, peppermint or the contents of your favorite herbal tea bag to add a pleasant smell to your compress.
If the tube sock look is not for you, consider collecting scrap material and sewing it to make a tube if you know how to sew. Nylon knee-high stockings also work well in place of a tube sock.