Most Americans eat more calories than they need, which is why so many are struggling with excess weight. When you're in a wheelchair, you have to be even more careful with your calorie intake because of limited mobility and decreased caloric expenditure. This also means you have fewer calories to play with to get all the nutrients your body needs to stay healthy and strong, making it even more important that you make the right food choices. Consult your doctor or a registered dietitian before making changes to your diet.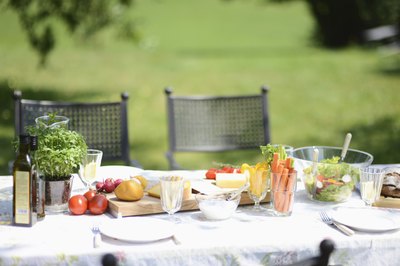 Count Those Calories
When you're in a wheelchair you need a lot fewer calories to maintain a healthy weight. How many you need depends on your weight, height, gender and the amount of activity you get. Dr. Harita Shyam, a registered dietitian at Apollo Hospitals, says adults in wheelchairs need fewer than 1,400 calories a day. Your doctor or dietitian can help you determine your daily calorie needs.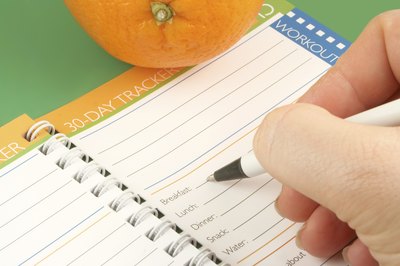 Balanced and Nutrient-Rich
Eat a healthy and balanced diet that includes a variety of nutrient-rich foods from all the food groups, including fruits, vegetables, whole grains, lean sources of protein and low-fat dairy foods. Fruits and vegetables are low in calories and rich in nutrients such as fiber, vitamins A and C and potassium. Fill half your plate with fruits and vegetables to keep you feeling full while keeping a lid on calories. Eating more high-fiber whole grains, such as whole-wheat bread and quinoa, may also help with weight management, according to "Dietary Guidelines for Americans, 2010."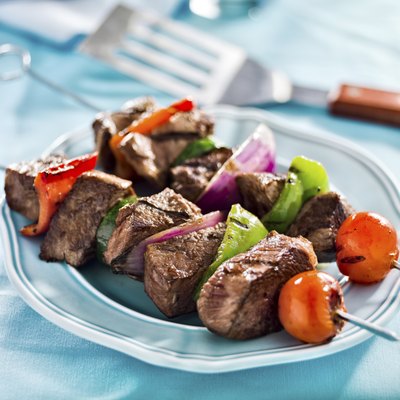 Need Your Protein
Wheelchair users are at a greater risk of developing pressure ulcers, which are sores that occur when you sit in one position for too long. Adequate protein intake is essential for prevention of pressure ulcers. You also need to get enough protein to maintain muscle mass, which is important for strength. Most Americans get adequate amounts of protein in their diet, according to the Centers for Disease Control and Prevention, so you are more than likely meeting your needs. In general, adult women need 46 grams of protein a day, and adult men need 56 grams. Lean meats such as poultry and seafood, beans, tofu and dairy foods can help you meet your daily protein needs.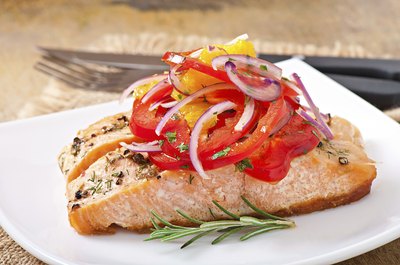 Nutrients of Concern
In addition to protein, you also want to make sure you get adequate amounts of fiber, fluid, calcium and vitamins A and C when you're in a wheelchair. Fiber and fluid helps prevent constipation, which is more common when you're less mobile. Fruits, vegetables and whole grains are good sources of fiber. To meet your fluid needs while keeping an eye on calorie control, stick with no-calorie or low-calorie beverages such as water, unsweetened tea and low-sodium broth. Weight-bearing exercises are difficult when you're in a wheelchair, and this increases your risk of osteoporosis. Low-fat dairy products and calcium-fortified cereals and juices can help make sure you get enough calcium for bone health. Vitamins A and C support immune health and help maintain skin integrity. Sweet potatoes, spinach, broccoli, cantaloupe or mangoes can help you meet your vitamin A and C needs.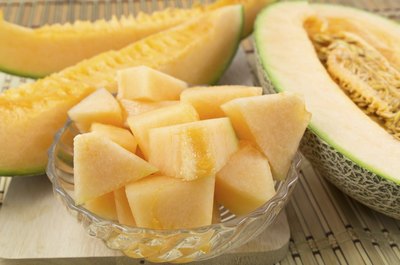 Healthy Meal Plan
On a 1,400-calorie diet for people in a wheelchair, eat three 400-calorie meals, plus one 200-calorie snack. A breakfast meal might include 1 1/2 cups of unsweetened whole-grain cereal topped with a banana and 1 cup of nonfat milk. For lunch, you might enjoy 2 cups of mixed greens including baby spinach topped with 3 ounces of broiled salmon, 12 chopped almonds, 2 tablespoons of low-fat balsamic dressing and a large orange. A healthy dinner might include a bean burrito made with a 6-inch whole-wheat tortilla stuffed with 1/2 cup of mashed black beans and 1 ounce of low-fat cheese with 1/3 cup of cooked brown rice and 1 cup of steamed broccoli. Snack options include a container of fat-free yogurt with a small apple, 1/2 cup of low-fat cottage cheese with 1 cup of cantaloupe or 10 whole-wheat crackers with 1 teaspoon of peanut butter.