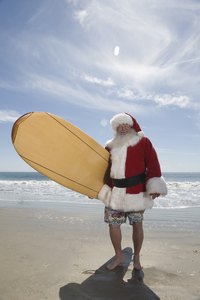 If you've never seen a palm tree wrapped in Christmas lights, you've never spent a Christmas in L.A. When you're ready to tackle shopping for a tree in a tank top and spending your Christmas Eve with the fan on "high," you'll discover that Los Angeles makes up for its lack of snow with an abundance of personality.
Follow the Light
Just north of downtown Los Angeles in the city of Altadena, the area's most high-voltage Christmas Tree Lane unfolds along a mile's worth of cedar-fringed suburban boulevard. Residents turn on the lights with a ceremonial flourish on the second Saturday in December, at which point the unassuming single-story neighborhood begins to spend its nights blanketed in a blinking, flashing, sometimes-animatronic deluge of light. Other good spots for a holiday-lights cruise: Rodeo Drive in Beverly Hills, Upper Hastings Ranch in Pasadena and the Venice Canals near Venice Beach.
Lace 'Em Up
Downtown Los Angeles channels its inner winter wonderland from the beginning of December to the end of January. While there's a distinct lack of snow on the surrounding ground, the outdoor rink refrigerates enough ice in the middle of Pershing Square to support a revolving cast of families and the occasional professional skating competition. The rink, which sits in a park amid a forest of skyscrapers, is the centerpiece of a downtown holiday series that hosts events such as free performances, a menorah lighting and a holiday market.
Chill with the Queen
About half an hour south of Los Angeles -- depending on the traffic, naturally -- the historic Queen Mary steamship sits in its accustomed mooring on the Long Beach dock. For the holidays, the pillbox-capped staff buff her into a shining example of holiday poshness. From the beginning of December until January 5th, the boat hosts a crowd of sparkling ice sculptures, a 100-foot ice slide and a 6,500-square-foot outdoor ice skating rink. Bring a puffy jacket; the winter wonderland is maintained at 9 degrees Fahrenheit. Closer to the holiday itself, the boat ramps up the celebration with a holiday village, gingerbread-house decorating and, of course, a resident Santa.
Make Merry with the Mouse
When locals think about holiday treats, they usually have the same thought: Disneyland. Just about an hour south of the Los Angeles border, Disneyland remains a classic Christmastime escape for families, lovebirds and buddies alike, with film-themed holiday events scheduled throughout the season. Most of the rides in the park get a holiday makeover, but the magic really happens after dark. Nighttime -- always a highlight at the park -- explodes during the holiday season with holiday-themed fireworks shows, a twinkly-to-excess Christmas Fantasy Parade and spectacularly costumed performers.