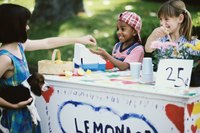 Bake sales and raffles aren't always sufficient to achieve fund-raising goals. Creative fundraising events can help individuals garner funds for a school group, finance a sports event and raise money for medical expenses. Kick your fundraising up a notch by offering out-of-the-box incentives, teaming up with restaurants and utilizing social media.
Work Incentives
If you're raising funds as part of a work initiative, talk to human resources about offering creative incentives to donors. If the workplace has a strict dress code, allow employees to dress casually on Fridays. Create friendly competition between departments by comparing their participation and donation amounts. Allow winners a noncash but meaningful prize, like getting preferred office-place parking for a few months or a half-day off.
Food and Restaurants
Team up with restaurants to get extra cash for your cause. Many restaurants are willing to donate a certain percentage of proceeds to your cause on a certain day of the week. The restaurants benefit from positive press by attracting extra patrons while you can rake in 10 to 15 percent of the restaurants' profits. Some food trucks can come onsite to your location and offer you the same deal.
Sponsored Changes
Engage volunteers to make a wild or out-of-the box physical change for your cause. Men can ask family, friends and work colleagues to sponsor them to grow a beard for a month. For added fun and participation, volunteers can post daily updates on a website or social-media platform. Women who are committed to the cause can offer to shave their heads or get a dramatically shorter cut if donations reach a predetermined level.
Go Viral
Use social media and online-payment systems to expand your fund-raising potential. Create a traditional website along with a social-media page that highlights where the funds are going to. Invite friends and family to share and re-promote your page on social platforms to spread the word. Online-payment systems such as PayPal and Amazon Payments allow donors to easily and securely contribute to your cause.