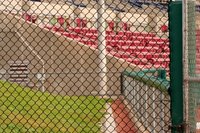 Dating back to April 20, 1912, Fenway Park is one of the oldest and most historic ballparks currently in use. Home to the Boston Red Sox, Fenway is a must visit for any baseball fan. Known famously for the Green Monster--the towering 37-foot left field wall--Fenway has been the site of some of baseball's most famous moments including Carlton Fisk's hand-waving home run and everything related to Ted Williams.
The Best Way
The way to reach Fenway Park is by public transportation. This is the most eco-friendly method of travel and most convenient. Many games begin and end during Boston's seemingly never-ending rush hour. Even though the park is just off of Interstate 90, it is still located deep within the city, and with the amount of people already driving to the game, getting out of the parking lot alone can take an extra hour after the game.
MBTA
Boston's extensive public transportation system, the Massachusetts Bay Transit Authority (MBTA), has three stops for either its commuter rail line or subway within walking distance to Fenway Park. The commuter rail line serves the surrounding cities and suburbs while the subway system serves Boston, Cambridge and the nearest suburbs.
The Best Choice
For those commuting from the suburbs, the commuter rail line is the best option. It allows for fans to park or walk to the nearest train station and then travel to the game worry-free. For those traveling from within the city, taking the subway is the better option. Fans can reach Fenway Park from just about anywhere in the city by taking a connection to the Green Line.
What Stop?
The nearest commuter rail line stop to Fenway Park is the Yawley Station on the Farmingham/Worchester Line. Fans get dropped within 500 feet of the ballpark. The Green Line subway's Kenmore Square station drops fans off just on the other side of Interstate 90. Walk west on Commonwealth Avenue toward Boston University. Turn left on Brookline, go under the Interstate, and then the ballpark is visible (estimated walk 5 minutes). For those coming south from Riverside, the green line's Fenway Park station drops fans off .3 miles from the park. Walk south on Park Drive to the public parks. Turn left on Brookline Avenue and walk northeast until the park is visible (estimated walk 9 minutes).