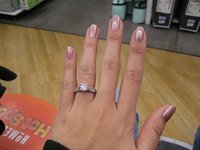 Your nails are subject to a lot of wear and tear, but there are simple ways you can care for your nails and the delicate skin around them. In addition to using store-bought nail conditioning products, you can care for your nails inexpensively by using items you may already have at home.
Cuticle Care
A good way to keep your cuticles from getting torn and snagged is to push them back with a cuticle stick. Before you do this you should soften your cuticles with warm water and rub some cuticle oil or cream on them so you aren't pushing back rough cuticles and potentially stabbing your skin. Whenever you put lotion on your hands, make sure to rub some lotion onto your nails. Your nails are like your skin and need to be moisturized. You shouldn't trim your cuticles because this can lead to infection. Good at-home oils to use on cuticles are olive oil and almond oil.
Protect And Maintain
The main culprit of nail breakage is working with and coming in contact with chemicals of any kinds. Always wear gloves when you do the dishes or clean with chemicals. Refrain from using your nails as prying tools or to scrape things. Do not bite your nails or the skin around you nails even if you have a hang nail. Trim any hang nails you might get with a pair of nippers. Trim your nails to an even length to prevent ingrown nails and file them down so they don't form jagged edges that can get snagged.
What To Avoid
Unfortunately, nail polish is damaging to your nails if you use it for a long time. The chemicals start to weaken the tissues in your nail bed and your nails become brittle and break easier. Another major culprit of nail damage is getting your nails done with acrylics or gels. In the process of applying these types of nails, the nail technician has to grind down your natural nail, and the lack of oxygen to your nails weakens them even more the longer they are covered by the artificial nail. When you do go to remove any polish from your nails use acetone-free nail polish remover, as removers that contain acetone can be harsh.