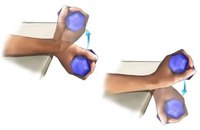 A fractured wrist occurs when one or more bones break in the radius or ulna. A person can fracture their wrist at work, while playing sports or by falling down. A lack of calcium can also make the wrist more susceptible to a wrist fracture. This type of injury can take up to 10 weeks to heal. Exercises are then recommended for rehabilitating and strengthening the wrist.
Types of Wrist Fractures
There are basically two types of wrist fractures: Colle's and scaphoid. A Colle's fracture typically effects the end of the radius bone in the forearm (thumb side) Elderly persons are more likely to get this type of fracture. Scaphoid fractures occur between the radius and scaphoid bone--near where the wrist and thumb are connected. This injury is common among young athletes. The various exercises are similar for both types of fractures, but you should not commence the exercises until the bone is healed.

Flexing and Stretching Exercises
These exercises strengthen and build flexibility in the forearm muscles and wrist. People who have had broken wrists have usually lost a considerable amount of both.
Forearm Rotations: While on a chair or standing, press your arm against your side and bend your elbow at 90 degrees. Open your hand and hold it out with your palm facing upward. Slowly move your thumb inward until your palm is facing the floor. Try to stretch the muscles a few seconds, then return to the starting position. Do 10 repetitions. This exercise will help re-acclimate the extensor and flexor muscles in the forearm to movement again.
Wrist Bends: Sit on a bench or chair. Place your hand palms down over the edge of the bench or your knee. With your hand open, lower it as far as you can and stretch the forearm muscles. Then raise your hand up and flex it toward you. Do this 10 times. Your forearm muscles have likely tightened a bit. This exercise will get them accustomed to movement again.
Left-to-Right Wrist Bends: While assuming the same position, place your palms downward. Slowly move your hand to the left, then to the right. Stretch them as far as you can on each side. Repeat for 10 complete repetitions.
In these exercises, you are stretching your forearms different ways while preparing it for renewed activity.
Strength Exercises
The following exercises build strength and lost muscle size back in your wrist and forearm muscles. Limit these exercises to 2-3 times per week.
Tennis Ball Squeeze: Holding a tennis ball in your hand, squeeze it for 5 seconds, then relax. Repeat this exercise for 10 repetitions. This is your first real compression exercise for building strength.
Wrist Curls: Pick up a light dumbbell. Sit on a bench and place your hand over the edge of it (palms facing upward). Slowly curl the dumbbell toward you, then lower it down. Do 10 repetitions. You will eventually be using more weight, but start out lightly so you get used to the movement.
Reverse Wrist Curls: Using an even lighter dumbbell (palms facing downward), lower the weight down then bring it back up. The extensor muscles on the outside of the forearm are not as strong as the flexors. Be sure to flex the muscles at each end.