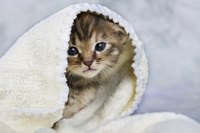 Many sights are commonplace during times of cold and inclement weather, but it isn't likely you'll see an aging pet wearing a parka. Your cat or dog may not sport a winter coat during the chilly season, but they, and their younger counterparts, all can all benefit from the soothing therapy a warming blanket can provide. A simple DIY blanket with a Mylar center can keep your pet warm by utilizing her body heat.
Getting Unplugged
Many humans scramble to plug in their blankets when the weather turns cold, but according to The Electric Blanket Institute, an electric blanket isn't the best option for your pet. Your pet's claws can damage the wires in an electric blanket, and their teeth easily can penetrate the thin wires. An exposed wire can cause injury if it becomes wet, and a damaged electric blanket is a fire hazard waiting to happen. The best course of action when providing a warming blanket for your pet is to avoid the use of an electric blanket.
Not Just For Balloons
Mylar has been used in space blankets and camping blankets and is renowned for its heat reflecting properties. A far safer alternative than an electric blanket, a homemade blanket with a Mylar center will allow your pet to benefit from its own body heat, which is especially beneficial to the aging pet and those recovering from illness or injury. DIY blankets can be customized for your pet's size and their fabric cover can be selected to match your décor.
Simple Ingredients
Mylar can be purchased online and is relatively inexpensive. In addition to the Mylar, you'll need batting and fabric. For a small cat blanket, consider upcycling some old flannel shirts. For a larger pet, such as a dog, you may need to take a trip to the fabric store. Avoid fleece, which isn't terribly absorbent and won't withstand the occasional pet accident. Additional implements include pins and scissors, and you'll need to blow the dust off the sewing machine.
Some Assembly Required
Determine how large you'll need to make your blanket. Once you've determined your measurements, cut a Mylar sheet, a section of batting, and two pieces of fabric equal to these dimensions. Lay your first piece of fabric right-side up. On top of this place your Mylar, your batting, and your second piece of fabric right-side down. Pin along three edges, and run a seam along these three sides. Remove pins and turn inside out, which actually will be right-side out. Fold in the edges on the unsewn side, pin and close with a final seam. Sew a seam diagonally from each upper corner to the corresponding lower corner. This will keep your Mylar from bunching up during washing.