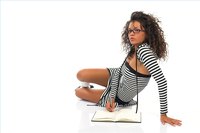 The best hair relaxers are natural, gentle and will not strip your hair of its essential moisture. Many store-bought hair relaxers contain chemical ingredients like lye and ammonia which damage your hair. Here's a formula to make a homemade hair relaxer that is effective, and good for your hair.
Olive Oil Hair Relaxer
Heat 1/4 of a cup of olive oil until it is warm. You should be able to comfortably put your fingers into the oil, if you can't it is too hot--wait until it cools before applying it to your hair.
Gently rub the olive oil into your hair, and then wrap your hair up into a towel. Use your blow dryer to apply heat to the towel for 5-10 minutes, then wash and rinse your hair as normal. Style using your regular methods.
Understanding Natural Hair Relaxers:
Olive oil is an effective natural hair relaxer, but it will never be as effective as a store-bought hair relaxer. This is because the chemicals in store-bought products actually strip your hair of its protective coating, and break the structure of your hair to eliminate curls. This is very damaging to your hair, however effective it might be. Using olive oil to relax your hair will provide you with a slight relaxing effect that does no damage to your hair's natural structure. However, you will have to apply the olive oil to your hair regularly to continue to see the relaxing benefits.
For the maximum benefit, leave the oil on your hair for up to two hours after using the blow dryer, and before before washing it off.
It is not necessary to use higher grades of olive oil (like extra virgin olive oil) to relax your hair. Any grade will work. This helps keep the price of the treatments down since lower grades of olive oil provide the same benefits to your hair that higher grades do.