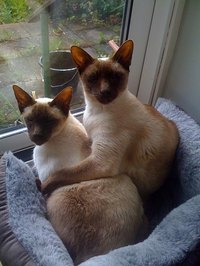 Constipation can affect any feline regardless of age, gender or breed. Peteducation.com states that constipation tends to occur more frequently in middle-aged cats, males, and domestic short-haired breeds. Some simple home remedies may help if your cat suffers from this condition.
Symptoms
Most cats have a bowel movement once a day, according to the littlebigcat.com article, "Constipated Cats." When constipation is present, bowel movements occur every 2 to 4 days. Be aware of your cat's normal litter box habits.
A constipated cat will spend an excessive amount of time in the litter box. You may see them straining. The stools in the litter box may be hard and dry, totally absent or smaller than normal. Vomiting may occur with straining. Your cat may also defecate outside the litter box area or become incontinent. Blood or mucous may be present in the stool. Diarrhea can also occur if the intestinal lining is irritated. See your veterinarian if the condition does not resolve itself in a few days. Cats with severe constipation may develop megacolon, which is an enlarged colon containing impacted fecal matter.
Remedies
Obesity and a sedentary lifestyle are often to blame for constipation in your feline friend. Avoid this problem by managing your cat's diet. Feed it healthy cat food and monitor how much your pet eats. Do not allow your cat to graze all day if they are obese. Measure out the correct amount of food, which will usually be printed on the package. Help your cat stay active by playing with it and enticing it with catnip-scented toys.
Dietary changes also help. Add a small amount of canned pumpkin to the food or buy a commercial cat food that has added fiber. You can also add fiber by sprinkling a bit of psyllium or wheat bran in the food. Wet canned foods will add needed fluids to the diet; or add water to dry food. It is very important they drink lots of water to avoid becoming dehydrated and lethargic.
Diagnosis and Treatment
Your veterinarian can easily diagnose constipation by performing blood tests and a urinalysis. X-rays will rule out other diseases.
If the constipation is bad enough, your cat may need an enema, which requires administering a sedative. Hospitalization is necessary in severe cases of dehydration.
If megacolon does not respond to other treatments, surgery is a last resort.