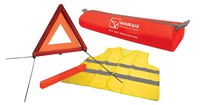 Creating a safe office protects your employees from harm and protects you from legal issues. Regulations exist for some items within the workplace, such as exits and fire hazards. Other office safety issues, such as lighting and ergonomics, may not be regulated, but are important for worker safety. Address safety issues in your office, and take care of anything that could cause a safety hazard. It's always easier to start with a safe office environment than to fix things later on.
Ergonomics
Ergonomics is a science that looks at how employees do their work and finds the safest way to support their bodies when doing such work. Ergonomics helps prevent strain and injury. For example, an office worker who sits at a desk should have a chair that she can adjust to her body size. She should be able to sit straight with both legs on the floor. A worker that must stand while working may benefit from standing on a special padded rubber mat that absorbs shock. Each industry has conditions that require proper ergonomic measures to protect its workers. You can learn more about the ergonomics needed for your office through the National Institutes of Health. If your budget allows, hire an ergonomics professional to assess your work environment and suggest improvements.
Housekeeping
General housekeeping, such as a recently mopped floor or cords out in the open, can cause a worker to trip or fall. Direct janitorial crew to clearly mark wet floor areas until dry. If possible, schedule office cleaning while most workers are not in the office. During rain or snow, set out caution signs and clear sidewalks and parking lots.
Fire Hazards
Fire hazards represent a big danger in the office. Do not let anything block the sprinkler system, and regularly check that office equipment does not have any damaged cords. Also warn workers about the dangers of using too many extension cords and overloading single outlets. Periodically discuss a fire escape plan with your workers, and run regular fire drills so employees can practice the escape plan.
Exterior Lighting
Exterior lighting provides a safe environment for those who work at night or during winter evening hours. Make sure all pathways are well lit and that the parking area is not too dark. Save money on electricity by using motion sensors, which will turn on lights when someone is in the area.
Exits
All exits in your office should be easily accessible to workers, especially in case of emergency. Clearly mark exit doors, and inform employees of their two nearest exits. Workers should also understand that in emergency situations, they should take the stairs and not the elevator.