According to the Mayo Clinic, strep throat is an infection within the esophagus that causes the walls of the throat to become sore and irritated. While only a small percentage of sore throats are strep, it is important to identify and treat this condition as it can lead to rheumatic fever and kidney inflammation. The foods that are consumed when you have strep throat can either soothe and promote healing or further irritate this passageway. Immediately visit your physician if you believe you have strep to obtain proper antibiotics.
Chicken Broth
Chicken broth is a common home remedy for colds, flu and strep throat. The main purpose of chicken broth is to soothe a sore throat as well as clear up clogged nasal passages that normally accompany a cold. Because strep throat can constrict the throat and make even the smallest act of swallowing painful, chicken broth is ideal because it does not require active movements of the throat in order to be ingested. To consume this food, you can either make your own chicken broth by boiling chicken breasts or you can purchase premade chicken broth in cans. If you choose to purchase canned chicken broth, make sure it contains no preservatives.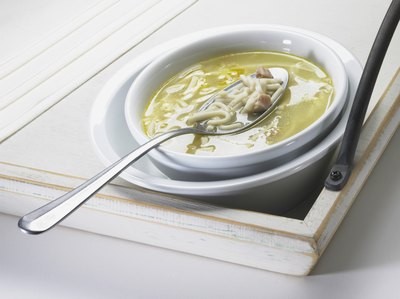 Frozen Snacks
According to the Mayo Clinic, frozen foods, such as yogurt, ice cream or popsicles can provide relief to a sore and inflamed throat. By introducing such cold foods to the throat, it will reduce inflammation and pain common with strep throat. Make sure that if you choose to consume popsicles, they have been made with all-natural juices, as processed juices contain a high sugar content that can further irritate the throat. Also, avoid any frozen beverages that contain high acidic juices, such as orange and cranberry juice.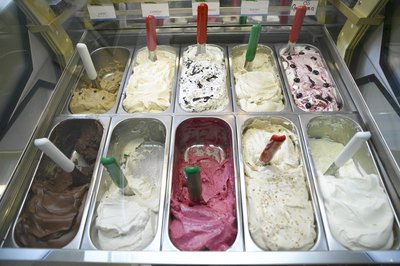 Salt Water Gargle
While this is not a food, gargling with warm salt water will reduce inflammation and relieve pain. This remedy will soothe an irritated throat, which will make eating regular foods easier and less painful. To prepare this remedy, mix ¼ teaspoon of regular salt with 8 oz. of warmed water. Make sure that the water is simply warm and not hot so you do not accidentally burn the roof of the mouth. Fill your mouth with the solution and as you tilt your head back, gargle for 30 seconds before spitting out the salt water. Do not ingest this solution as it can irritate the stomach.