Patanol is a prescription eye medication that reduces discomfort and watery eyes caused by allergies. As an antihistamine, the medication blocks histamine receptor sites, which flare up when exposed to allergens. Over-the-counter eye drops work similar to the prescription medication, and is usually cheaper. Alternatives to Patanol include Bausch & Lomb's Aalaway, Naphcon-A and Claritin Eye. While these alternatives are cheaper, you may have to use them frequently to maintain effectiveness.
Alaway
Alaway, also known as ketotifen ophthalmic, is an over-the-counter medication that reduces the symptoms of allergies within minutes of use, according to the Bausch & Lomb official site. Like other eye drops, Alaway is not to be used if you are wearing contacts, and should be taken every 12 hours to maintain allergy relief. Alaway is safe to use with other allergy medications, and may cause minor side effects such as light sensitivity, mild eye irritation and dryness of the eyes.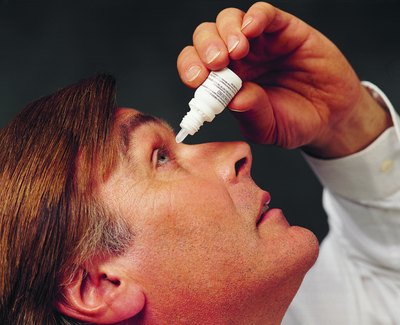 Naphcon-A
According to Drugs.com, Naphcon-A is a decongestant and an antihistamine medication that prevents histamines from causing itchy, watery eyes and redness. Remove contacts before using Naphcon-A, and notify your doctor, as it can conflict with other medications. Be cautious when using Naphcon-A if you suffer from diabetes, high blood pressure, thyroid problems and heart disease. Use the eye drops every four hours to manage eye allergies and irritation.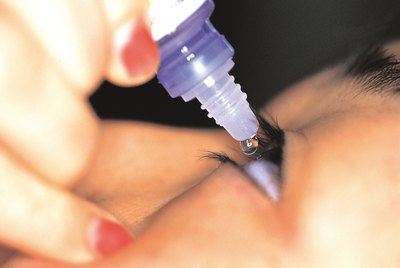 Claritin Eye
Claritin Eye is an over-the-counter medication that contains ketotifen and lasts up to 12 hours. Allergy symptoms subside within minutes after using and requires only one drop in each eye every 12 hours. According to the official site, Claritin eye is specifically intended for treatment of allergies caused by ragweed, pollen, grass, animal hair and dander. When using Claritin Eye, remove contacts and wait 10 minutes before putting them back in. Claritin Eye should not be used for children under the age of three.