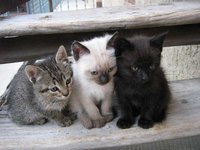 Kittens are very susceptible to hypothermia, which occurs when the body temperature becomes dangerously low. Kittens don't develop shivering reflexes until they are six days old, so hypothermia and freezing could be life-threatening. However, older kittens are still at risk for hypothermia.
Initial Care
If you find a kitten outside in cold weather, see if it is breathing. If it is breathing, quickly raise the kitten's body temperature by placing it in an environment that is as close to 85 degrees Fahrenheit as possible. A heating pad under a blanket is good, or use a hot water bottle filled with 85 degree water. A plastic soda bottle filled with water will work in a pinch. Do not feed the kitten. Get the kitten into the warm area as quickly as possible and call a veterinarian immediately.
Long Term Care
Take the kitten to a veterinarian to check for frostbite and other potentially fatal problems. Your veterinarian will give you guidelines for proper care. Once the kitten's rectal temperature reaches 95 degrees Fahrenheit, feed the kitten a diet appropriate to its age. Very young kittens will need kitten formula, older kittens can eat kitten food.
Veterinary Treatment
For cases of severe hypothermia, especially where the kitten appears frozen, it is very important to get the kitten to a veterinarian as soon as possible. A veterinarian can check for problems such as frostbite and will likely warm the kitten from the inside out, as opposed to from the outside in. Veterinarians can do this by circulating warm fluids in the kitten's body cavities. The vet may have a better chance of saving the kitten than you will on your own.