Broken blood vessels in the face develop because of sun exposure, aging, inflammatory conditions such as rosacea, stress and certain foods. Broken blood vessels caused by rosacea appear on the nose, cheeks, chin and forehead and get worse without treatment. Treatment for broken blood vessels in the face includes topical ointments, oral antibiotics and laser treatments. Postponing treatment makes it difficult for the skin on your face to improve.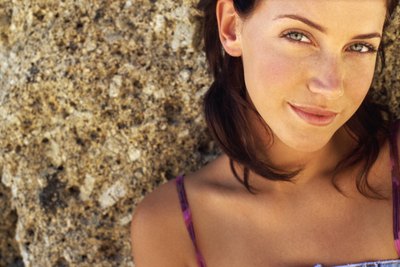 IPL Treatments
Go to a board certified dermatologist or cosmetic surgeon and get intense pulse light (IPL) treatments. This non-invasive procedure takes between 20 and 30 minutes. According to the Institute of Dermatology and Cosmetic Surgery, doctors perform this procedure by using a handheld wand that releases certain amounts of light energy to the skin. You will feel a slight sensation, like a snapping rubber band, when the light touches your skin. Your skin may be red for one to three days, and you should notice changes after one or two treatments.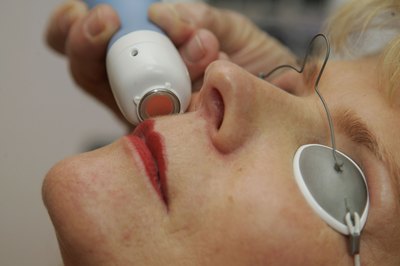 Sclerotherapy
Sclerotherapy dissolves broken blood vessels in the face. Dermatologists and cosmetic surgeons use thin needles filled with special solutions. They inject this needle into the blood vessels, causing them to collapse and disappear. A Board Certified Plastic Surgeon Resource says sclerotherapy facial treatments use milder solutions than those used to treat spider and varicose veins on the legs, and you should see a 70 percent improvement in your skin. This minimally invasive procedure has minor, short-term side effects such as redness, swelling and bruising. Applying ice packs reduce the swelling and bruising. Talk to a professional about approved makeup and facial products that you can use after treatments.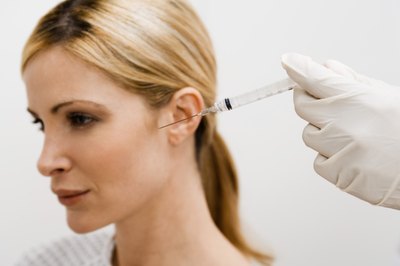 Antibiotics
Oral antibiotics or topical antibiotics such as metronidazole can be helpful for blood vessel damage cause by rosacea. Use topical cream as directed by doctor; minor side effects include slight burning, dryness, itching and scaling. See your doctor if you experience severe side effects such shortness of breath or hives. Oral antibiotics such as tetracycline treat bacteria from the inside. Tetracycline side effects include nausea, vomiting, diarrhea, upset stomachs, tongue swelling, less urination, headaches or blurred vision. See your doctor if side effects persist.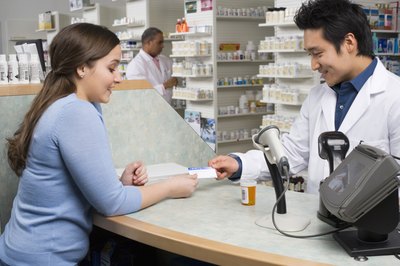 Wear Sunscreen
Wear sunscreen to prevent further skin damage. In addition to sunscreen, wear hats, sunglasses and protective clothing to prevent sun damage or use a sun protective umbrella to prevent the appearance of broken blood vessels in the face.