Perhaps the biggest difference between buying Christmas gifts for women over 50 and buying gifts for younger women is the level of sophistication of the gift. Women past 50 usually have settled into their own personal style and have developed particular tastes that a thoughtful gift-giver can take note of. Through some close observation, it's possible to come up with personalized and welcome Christmas gifts.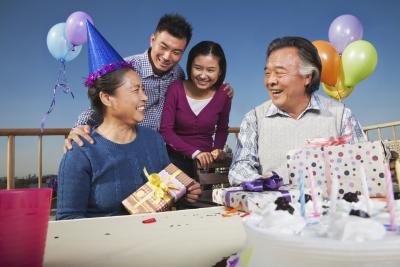 (XiXinXing/iStock/Getty Images)
A woman over 50 with an established sense of fashion doesn't necessarily need more clothes, but she can always use a few new accessories. Take time to notice the basic colors she wears and her basic style, weather tailored or ultra-feminine. Determine if the majority of jewelry she selects is gold or silver. Then come up with a few possibilities before you head out for Christmas shopping. In the purse category, consider a glamorous evening bag or a leather wallet. A pair of good leather gloves is always a welcome gift, or maybe some fuzzy winter mittens. Notice the colors a woman normally wears and look for a scarf, either one for warmth or one to accessorize a favorite outfit.
Look carefully around the home of a woman over 50 and you'll come up with lots of ideas for a gift. For example, a living room filled with purple accents might suggest a delivery of African violets, whereas an Asian decorating theme might give you ideas like a lacquered box or set of coasters. A kitchen displaying a collection of vintage tea towels challenges you to search out a flea market for a couple more; similarly a stack of books about gardening should send you to the nearest bookstore searching for the newest bestseller in that category.
alessandro0770/iStock/Getty Images
Edible gifts are welcome gifts for women who either entertain or just enjoy treating themselves. Again, this kind of Christmas gift works especially well if you are already aware of her favorites, but seasonal fruit is a safe bet; for an even more lavish gift, one of the popular fruit-of-the-month club subscriptions would be a winner. A collection of a dozen gourmet dark chocolate bars tied in red and green plaid ribbon is a fun gift, especially since dark chocolate has been given the thumbs-up for its antioxidants. A basket filled with a variety of herbal teas is another possibility.
A spa basket also makes a welcome Christmas gift, and putting the basket together can be fun. Start with the basics, including moisturizing soap in an appealing scent and some body lotion made especially for dry skin; add a couple of purse-size bottles in the same scent. Some festive-colored nail polish for holiday parties would make a nice addition along with some Christmas-patterned emery boards.
ChamilleWhite/iStock/Getty Images
1001 Great Gift Ideas: The Gift-Giving Organizer; Jane A. Brody; 1999
The Giftionary: An A-Z Reference Guide for Solving Your Gift-Giving Dilemmas . . . Forever!; Robyn Freedman Spizman 2003
Promoted By Zergnet