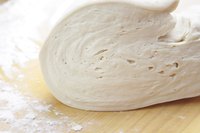 Rheumatoid arthritis can cause joint pain and inflammation, fatigue and stiffness due to your immune system attacking the membrane that lines your joints. It is most likely caused by environmental factors, hormones and genetic factors, not by your diet. While eating a generally healthy diet is important for people with rheumatoid arthritis, there isn't enough scientific evidence to recommend any particular diet, according to the National Institutes of Health. That said, some people may find their symptoms decrease when following a gluten-free diet.
Gluten and Rheumatoid Arthritis
Some people suffer from both celiac disease, which is an autoimmune condition that causes an inability to digest gluten, and rheumatoid arthritis, according to an August 2013 article published in the New York Times. Both conditions can cause joint pain, but beneficial results from a gluten-free diet are more likely in people who suffer from celiac disease or a gluten sensitivity. About 1 percent of people have celiac disease, according to an article on the Arthritis Today website, but most of them have not yet been diagnosed. Your doctor can give you a blood test to see if you're sensitive to gluten and would benefit from a gluten-free diet.
Research Results
Some research does back up the possibility that a gluten-free diet may help improve rheumatoid arthritis symptoms. For example, a study published in 2001 in Rheumatology found that a vegan gluten-free diet helped about 40 percent of study participants. But this was a very small study involving two dietary changes -- becoming vegan and avoiding gluten -- so further research is necessary to verify whether a gluten-free diet is what caused the small improvement in symptoms.
Cutting Out Gluten
Any food that contains barley, rye or wheat contains gluten. Fresh fruits, vegetables, meat, poultry and seafood are gluten-free, as are plain versions of rice, nuts, corn and beans. Many processed foods contain hidden sources of gluten, including self-basting poultry, processed meats, rice mixes and baked beans, so look for options labeled gluten-free. Foods containing maltodextrin, soy sauce, thickeners, sauces, marinades, gravy, imitation meats, artificial colors, flavorings, broth, puddings, soups, seasonings, vegetarian burgers, breading, blue cheese crumbles or sausage may contain gluten.
Other Dietary Changes
Some people with rheumatoid arthritis find that avoiding certain foods may help with their symptoms, although scientific evidence is still preliminary. The Physician's Committee for Responsible Medicine notes that dairy products, coffee, eggs, meats, corn, tomatoes, potatoes, nuts, citrus fruits, wheat, rye and oats are the foods most commonly considered arthritis triggers. Avoiding all of these foods or going gluten-free may make it difficult to get all of your nutrients, so speak with your doctor or a registered dietitian before making any drastic changes to your diet.