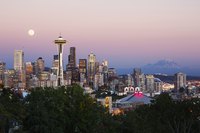 Known as the birthplace of grunge music and Starbucks, Seattle, Washington offers an eclectic selection of activities to keep tourists busy for days, including coffee crawls, the gigantic Fremont Troll, brewery tours and stunning views of nearby Mount Rainier. When the sun goes down, the coastal city ignites with everything from live indie music shows featuring emerging artists to cultural evening strolls through the Downtown Seattle Public Art scene.
The Needle at Dusk
Seattle's most iconic structure, the Space Needle, offers panoramic views of the cityscape both day and night. Special passes allow guests two visits in 24 hours, providing the opportunity to see both day and night views. To catch them both in one visit, swing by just before dusk to see Seattle's lights flicker to life as the sun sets. Stick to the observation deck if your only interested in the sights, or book dinner with a view at the Needle's foodie-approved SkyCity Restaurant.
Moonlight Cruise
Prowl the Puget Sound after nightfall for water views of the cityscape on one of Seattle's many cruise lines. The cruise lines offer a variety of trip features and explore different bays, providing a unique experience on each cruise. Book with Argosy or Waterways lines, which offer dinner cruises complete with multi-course meals, live music and after-dinner dancing. Queen of Seattle Paddle Wheel Cruises specialize in Yukon Gold Rush history, as well as offering sunset cocktail cruises and murder mystery voyages.
Gallivant with Ghosts
Pike's Place Market, recognizable by the iconic Public Market Center sign, is open more than 19 hours almost every single day of the year, providing shopping, dining and entertainment well into the evening. The market also boasts of a haunted history, best explored with an evening walking tour of the reputedly haunted 9-acre venue. Have a gruesome evening with an investigation of the city's first mortuary or discover the venue's less-spooky past with a market history tour. Ghosts also abound underground in the city's intricate maze of passageways, which were once ground-level roadways. Take a spooky tour of the subterranean tunnels under Pioneer Square with Bill Speidel's Underground Tours to learn of the city's unsavory history or hunt spirits with a ghost hunter on a Spooked in Seattle tour.
On the Waterfront
As a port city, it's not surprising that Seattle's waterfront teems with activity even after the sun sets. Enjoy the fountains and stroll along the water on lamp-lit walkways in Waterfront Park. Area restaurants feature local seafood entrees for a fresh evening meal, while nearby bars offer happy hour specials. For breathtaking peer and harbor views, take a spin on Seattle's Great Wheel, a 175-foot Ferris wheel with fully enclosed observation gondolas.
Old-School Dancing
Back in the '40s and '50s, a night out included dancing intricate steps to live music on an opulent ballroom's dance floor. In Seattle, the Century Ballroom offers a variation of that old-school experience with classic dance classes teaching tango, tap, waltz, swing and even the Lindy Hop. The ballroom's events schedule allows guests to plan visits around themed dance nights, which also denotes when the evening's activities are adults only or open to the under 21 crowd.