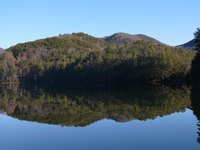 In the North Georgia mountains, surrounded by state parks and national forestland, the town of Helen is a strange sight. The downtown area has been designed to look like a Bavarian village, and seeing men wearing lederhosen is common. Helen caters to tourists year-round, but it's most famous for being home to one of the largest and longest running Oktoberfest celebrations in the country. No matter when you come to this town that looks more like a theme park, your kids will find plenty to do and memorable sights to see.
Water-Based Fun
In the warmer months between late spring and early fall, Helen is a water town. The Chattahoochee River flows through the heart of Helen. Tubing, or "shooting the 'Hooch," as its known, is a favorite pastime. You'll have no trouble finding an outfitter like Cool River Tubing to get you and your kids on the water with a bright-colored inner tube for floating the river. In Unicoi State Park there's a shimmering, cool mountain lake with a swimming beach. Helen Water Park and Tubing is open between Memorial and Labor Day weekends with many thrill slides and a lazy river; the park also provides tubing runs on the 'Hooch.
Balloons and Bavaria
Each June, Helen hosts the Helen to the Atlantic Balloon Race and Festival. Non-competing balloons stick around for the festival part of the event to take people up for memorable rides in the whooshing balloons. Between mid-September and early November, Helen celebrates Oktoberfest -- its signature event. It focuses more on traditional German culture than partying. Despite its reputation for beer-swilling revelry, Oktoberfest in Helen is very family-friendly. If the fest gets rowdy later in the evening hours, your clan will already be in bed anyway. During the holidays, Alpenfest brings parades, shows and a multitude of lights to town to celebrate the season.
For the Whole Family
Like any tourist destination, Helen has plenty of attractions aimed squarely at families with young children, including mini golf and go-karts. There's one go-kart track, Alpine Extreme Speed, but mini golf is big here, with three themed courses vying for your business -- Alpine Mini Golf, Bavarian Mountain Miniature Golf and Pirates Cove Adventure Golf. The latter has a pirate adventure theme along its elaborate course, providing a nice break from the Alpine overload found all over town. And from the something-you-don't-see-everywhere department, Charlemagne's Kingdom is a large model railroad display depicting various German settings that will grab your kid's attention with its eye-catching detail.
Everyone Out
Despite its kitsch, Helen is still a mountain town at heart, and that means lots of opportunity for outdoor adventure. This is a place to go hiking, ziplining, waterfall hunting and horseback riding. For adventures on horseback, head to Chattahoochee Stable just outside town. A hiking trail from inside Unicoi State Park will take you to one of North Georgia's more spectacular waterfalls, the dual cascades of Anna Ruby Falls. For ziplining through the treetops and over the water, you have a few choices in the area, including Zip N Time and Cool River Ziplines, the two closest options to the village.