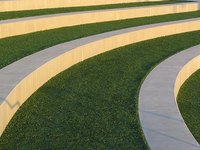 Artificial turf has a wide variety of uses that many people never consider. This turf can be used to enhance the beauty of a home, used as a golf green or even used to transform a desert landscape into a green suburban neighborhood. Growing and maintaining real grass is a very labor-intensive, time consuming and costly job. Worst of all, the health of real grass can be patchy, where as artificial turf is consistent across the yard. An easy solution to having a problematic yard is a "do-it-yourself" artificial turf installation.
Prepare the Area
Before you can get started installing your own artificial turf, you will need to identify and prepare the area you want covered with turf. Consider what items may need to be added or removed from that area such as drainage pipes, lighting or lawn furnishings. You can call the city inspector's office to have someone mark where any underground pipes or cables are located.
The chosen area should be level ground. If the area is not level, you will need to add or remove soil to even out the surface. Making the area even is important, as this will ensure the proper drainage of water. Once you have a clean, level area, you are ready to install the artificial turf.
Installing Artificial Turf
A standard roll of artificial turf will be 15 feet wide by 100 feet long, which is enough to cover a 1,500 square foot area. The turf can be rolled out with all of the fibers facing the same direction. Keep these facts in mind as you calculate how much artificial turf is required to cover the desired area.
The rolls of artificial turf are very heavy, and you will need help to move and place them. After seaming and trimming the pieces of turf roll, they need to be secured to the ground. Use 6-inch landscaping nails, spaced about every 2 feet. These nails will prevent the turf from moving or tearing.
Completing the process consists of applying infill to the turf. The infill material can be crumb rubber or sand, which is spread across the top surface of the turf. The reason for an infill is to ensure that the artificial turf material does not shift or buckle.
Having a concrete pathway through the area where the traffic is usually high can reduce wear and tear of the artificial turf. The concrete area can also be used as a place for setting up outdoor dining, and the turf will be safe from any spills.