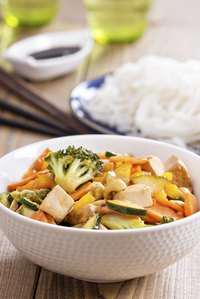 Following a vegan diet may help lower your risk for obesity, high cholesterol, high blood pressure and heart disease because these diets tend to be higher in fiber, magnesium, potassium, folic acid and vitamins C and E and lower in saturated fat, according to a review article published in The American Journal of Clinical Nutrition in May 2009. If not well-planned, however, a vegan diet can be low in certain nutrients. If you're just beginning to follow a vegan diet, you may want to talk to a registered dietitian for some help with meal planning.
Nutrients of Concern
Sometimes vegans don't get enough omega-3 fats, protein, calcium, iron, zinc, vitamin D or vitamin B-12.
Protein is mainly an issue if you don't eat a variety of different foods, as most vegan protein sources, with the exception of soy products and quinoa, don't contain all the essential amino acids.
Soy products, grains, nuts and beans all provide zinc. You can get vitamin D from fortified nondairy milk and fortified cereals as well as from spending time in the sun during certain times of the year, but you may need a supplement to get the recommended amount of vitamin D on a vegan diet.
Vitamin B-12 only occurs naturally in animal products, so vegans need to take a supplement or get this vitamin from fortified foods. Flaxseed contains omega-3 fats, but a supplement may be necessary to get the recommended amounts since fish is the best source of this type of essential fat.
Almonds, dark leafy greens, soy products and fortified foods and beverages can help you get the calcium you need while still following a vegan diet, and raisins, wheat, tofu, broccoli, beans and fortified cereals can help you meet your iron needs. Eat your iron-rich foods with vitamin C-rich foods to help improve absorption.
Breakfast and Snack Ideas
Vegans eat only plant-based foods, such as legumes, grains, vegetables, fruits, nuts and seeds, and they don't eat honey, gelatin, meat, seafood, poultry, eggs or dairy products.
Breakfast could be hot or cold cereal with nondairy milk and fruit; a smoothie made with kale or spinach, berries, banana and nondairy milk; or a tofu and vegetable scramble made with extra-firm tofu, diced potato, turmeric and salt. Whole-wheat toast with peanut butter and a piece of fruit is also nutritious option.
An apple and a tablespoon of nuts, a few baby carrots with a tablespoon of hummus or popcorn topped with a small amount of maple syrup, cinnamon and chili powder for added flavor all make good vegan snacks. A small bowl of fruit salad is another healthy snack choice.
Lunch and Dinner Options
For lunch, you could have a wrap made with vegetables and hummus along with a cup of lentil soup; a large salad with tofu or beans for protein or a veggie burger topped with lettuce, tomatoes and onion. Leftovers from dinner the night before can also be an easy lunch, perhaps repurposed by loading them into a wrap for a portable lunch.
Dinner could be a vegetarian chili, a tofu and vegetable stir-fry served over brown rice or pasta and sauce with a nice side salad. You can also make your own mix-and-match dinner by making some type of green leafy vegetable along with your favorite type of beans and your choice of whole grains. For example, you could make kale with quinoa and black beans or whole-wheat couscous with chickpeas and spinach.
Potential Considerations
Following a vegan diet isn't automatically going to lead to weight loss. For this, you'll need to eat fewer calories. To lose 1 to 2 pounds per week, eat 500 to 1,000 fewer calories per day or exercise enough to burn that many calories. Women shouldn't go below 1,200 calories per day, however, and men shouldn't go below 1,800 calories, as this can slow down your metabolism.
The healthiest diet, whether you're vegan or not, tends to be one filled mainly with whole foods and minimally processed foods. You shouldn't eat a lot of highly processed foods made with refined grains and added fat and sugar. These foods tend to be low in nutrients but high in calories and sodium. Eating too much processed or fried food may make you more likely to get heart disease, kidney disease and diabetes, according to a study published in The Journal of Clinical Endocrinology and Metabolism in October 2009.