Pink and red, and even lavender and white, are the major color options for Valentine's Day decor. They can create a romantic holiday atmosphere for a couple or a loving and novel theme for children. Prepare your home with beautiful and festive decorations for Valentine's Day by using craft supplies and items you may already have. Spend a crafting weekend before Valentine's Day creating dinner table decorations, and effortlessly set the table on the day of the holiday.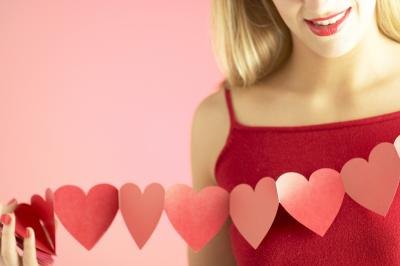 (Hemera Technologies/AbleStock.com/Getty Images)
Prepare the foundation for your Valentine's Day table with a white lace tablecloth. If you do not already own a lace tablecloth, visit your local thrift store. Lace curtain panels are a beautiful alternative. Bring out your best china and silverware to set the table. An advantage would be to have china that fits the color scheme of the holiday, but it isn't a necessity.
Fold large 12-inch squares of scrapbook paper, wallpaper or wrapping paper in pink or red. Draw half a heart on the fold of the paper and cut out. Unfold the heart and place it under the plate as a place mat. Repeat for as many place settings as you will need. Fold three-inch squares of paper and cut out hearts for coasters. Use pinking shears or decorative-edged scissors to give the hearts a more professional look.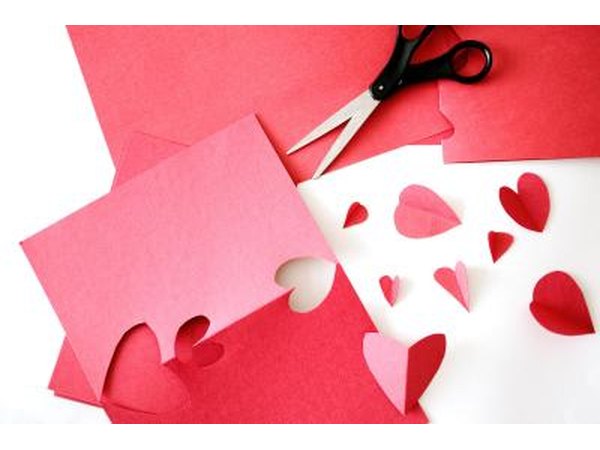 Jupiterimages/Photos.com/Getty Images
Set a cake plate in the center of your table for a candlelight centerpiece. Cut a two-inch strip of decorative paper that will wrap completely around the rim of the plate. Cut one long side with decorative scissors. Attach the straight edge of the strip to the rim with double-stick tape, piecing if needed. Wrap a one-yard length of ribbon over the paper and around the rim, tying the ends into a bow. Place small amounts of double-stick tape behind the ribbon to keep it from sliding off.
Place a lacy paper doily on the cake plate and arrange four clear glass votive holders on top. Fill the votive holders halfway with Red Hot candies and nestle a tea-light candle on top. Place two long-stemmed candle holders on each side of the cake plate with red taper candles. Sprinkle additional Red Hots on the cake plate and table surface.
Hemera Technologies/AbleStock.com/Getty Images
Place a paper doily on each plate and center a decorated Valentine's Day cupcake on top. Roll a napkin, and then roll a lacy paper doily around the napkin. Tie a red or pink ribbon into a bow around the rolled napkin and lay it beside the place setting. For an unexpected and whimsical touch, lay six red or pink roses, spaced evenly, on the table surface.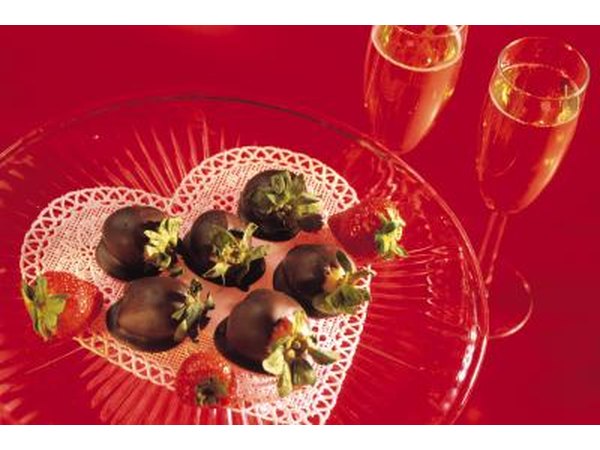 Comstock/Comstock/Getty Images
Cyndee Kromminga, Craft and Interior Designer; Kro Crafts; Winfield, Kansas
Promoted By Zergnet