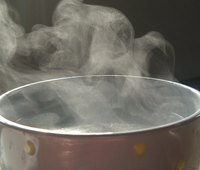 Put on a happy face. Put your best face forward. Face the world. Let's face it: A good first impression starts with clean, blemish-free skin. Self-confidence, too, can be taken down a notch by blemishes.
Steam helps rid the skin of excess dirt and grime by promoting sweating---a natural cleansing process---while also aiding in flushing out pore-clogging bacteria. Steaming also promotes blood flow to the skin. This simple home remedy can help keep skin clean and clear.
Preparation
Start with a clean face. Use a gentle cleanser, such as Cetaphil Gentle Skin Cleanser, to remove excess dirt, makeup and sweat. Pat the skin dry with a clean towel; keep the towel with you. Bring about 2 qt. of water in a pot to a rolling boil. Remove the pot from the heat source.
Add essential oils or leaves to the water for an enhanced experience: chamomile is soothing; tea tree oil acts as an antiseptic; lavender is calming.
Process
Set a timer for 10 to 15 minutes. Drape the towel over your head and lean over the pot of water. Keep your face about 10 inches away from the water. It may take you just a little while to acclimate yourself to breathing in the steam.
Final Touches
Once the timer goes off, back away from the pot of water and allow your face to cool a bit. Rinse your face with cool water, which helps minimize the size of the pores, and pat the skin dry. Apply a noncomedogenic (won't clog the pores) moisturizer. Then don't touch your face, in order to keep excess bacteria away from your newly cleansed skin.