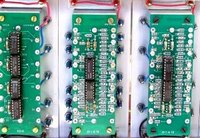 The International Organization for Standardization maintains a series of standards for ensuring quality. The ISO 9001 standard requires that a compliant company has a set of procedures, monitoring processes, documentation, defect checking and regular reviews to facilitate continuous improvement. To become certified, a company is audited by an independent body to demonstrate that it has established these formal business processes and procedures. You must also conduct internal audits yourself to ensure the system is working. An audit reveals the descriptions, written references and usage validation as well as whether the procedure is actually helping to improve quality.
Quality Management Systems Procedure Development
Quality is a subjective term that typically means a product or service meets customer expectations. The ISO 9000 family of standards is based on eight quality management principles: customer focus, leadership, people involvement, process approach, system approach, continuous improvement, decision making and good supplier relationships. Define procedures to help you understand your current and future customer requirements. Align activities to a clearly articulated vision and strategic goal. Involve employees and make them responsible for their actions. Define procedures that use resources effectively and imaginatively. Integrate procedures to ensure consistency and adherence. Plan to adjust procedures regularly to maintain a level of continuous improvement. Analyze data produced by procedures to make effective decisions. Minimize costs associated with procedures.
Benefits
Benefits associated with ensuring quality as defined by the ISO quality standards include increased revenue and lower operational costs due to increased productivity. By incorporating and widely communicating quality procedures into your operations, you contribute to a consistent strategy and vision for all levels of your company. Encouraging creativity in response to problems found through the quality management process motivates innovative approaches.
Adoption
By adopting ISO 9001, you establish performance. With ISO 9004, you make your business more efficient by integrating quality processes with other management systems. By measuring customer satisfaction and responding to needs, you establish loyalty and encourage repeat purchases. Maintaining quality standards is also important to meet statutory and regulatory requirements.
For example, by implementing quality procedures related to handling repeated customer support product issues on both a proactive and reactive basis, you establish consistent, repeatable customer dialogues. This captured knowledge contributes to increased customer satisfaction and reduced operational expenses associated with troubleshooting complex customer problems.