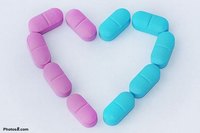 Plavix was the #2 selling drug in the United States in 2008. While Plavix has been the only drug of its kind on the U.S. market for some time, it now faces competition from some up-and-comers. (see reference 1) So finding an acceptable alternative to the market dominator is getting easier and easier.
What It Does
Plavix is an antiplatelet drug, thought to lower the risk for strokes and heart attacks by stopping blood platelets from clotting. Other drugs like aspirin and warfarin have a similar effect, essentially "thinning" the blood and preventing those potentially fatal blood clots.
You can consider alternatives to Plavix, but the disease associated with the drug is one not to be taken lightly. For that reason, do not consider any of the alternatives mentioned here without the advice and cooperation of your doctor. Likewise, do not use vitamin or herbal supplements while you are taking the drug, unless cleared by your doctor. Taking too many "blood thinners" can be too much of a good thing, causing easy bruising and blood in the stool, among other issues.
Generics
Plavix is also known by its generic name, Clopidogrel bisulfate. As of 2009, the U.S. Food and Drug Administration has blocked the sale of generic forms of Plavix until 2011, due to patent rights.
If you're looking for a cheaper alternative to Plavix, you won't find it at a regular U.S. pharmacy. However, the generic form is available for sale in Canada and Europe. Sites like canadapharmacy.com and canadadrugs.com offer generic Clopidogrel that can be shipped to the United States. As with most drugs, the generic form is cheaper.
Up-and-Comers
According to Bloomberg news, two new drugs are giving Plavix a run for its money. They could even prove to be more effective than Plavix. One drug, Brillinta, outperformed Plavix in 2009 clinical trials sponsored by the makers of Brillinta. The company hopes to have it on the U.S. and European markets by late 2010.
Another drug, Effient--or prasugrel--has already been approved by the FDA. Clinical trials showed it to outperform Plavix as well, but it could increase your risk of bleeding.
Alternative Medicine
You do have alternatives to Western medicine that you should discuss with your doctor. While you can get these in the health food store, take them only under a doctor's supervision. Some supplements can be quite powerful, so you don't want to experience a "doubling up" effect.
Supplements that you could try include fish oil, vitamin E, gingko biloba, ginseng, garlic, vitamin E, fish oil or coenzyme Q10. Another enzyme recommended by Dr. Joseph Marcola, renowned natural health professional, is called "nattokinase."