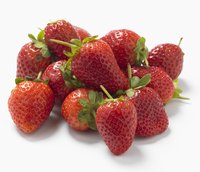 Eating for immune health is as important as eating for heart health or weight loss. When your immune system is in tiptop shape, it reduces inflammation, which not only helps prevent autoimmune diseases but also may help your fight against heart disease, diabetes and Alzheimer's. An anti-inflammatory diet isn't all that different from any healthy diet, but it does emphasize specific nutrients that help diminish inflammation.
Anti-Inflammatory Foods
The anti-inflammatory diet focuses on filling your plate with foods rich in omega-3 fatty acids, vitamins C and E, polyphenols and prebiotics and probiotics -- nutrients that naturally reduce inflammation.
To get the nutrients your body needs, eat fruits and vegetables, whole grains, more legumes, fatty fish such as salmon and tuna and healthy fats such as olive oil and avocados. Making berries and cherries a regular part of your diet can help up your intake of polyphenols**. You also want to include plenty of nutrient-rich veggies such as leafy greens. Using herbs and spices to flavor food also boosts nutrients for better immune health.
If you're trying to reduce inflammation, you also want to limit your intake of foods that may exacerbate the problem. These include foods high in refined carbs and trans fats such as fast food and baked goods and foods high in saturated fat such as butter and bacon. You also want to avoid eating too many calories, says a February 2014 article published in "Today's Dietitian."
Immune-Enhancing Breakfast
Start the day off right with a healthy immune-boosting breakfast, such as a bowl of oatmeal with walnuts, chia seeds and blueberries and a cup of nonfat milk or milk alternative such as soy or almond milk.
An omelet filled with spinach and served with a toasted whole-wheat English muffin topped with mashed avocado and a bowl of cantaloupe also makes a healthy anti-inflammatory breakfast meal.
For a nutrient-packed breakfast on the go that's gluten-free, blend strawberries, bananas, flax oil and Greek yogurt with ice.
Chia seeds, flaxseeds and walnuts are plant sources of omega-3 fatty acids.
Anti-inflammatory Lunch
Filling half your plate with fruits and vegetables helps make sure you're getting the nutrients you need on your diet for inflammation, says the Academy of Nutrition and Dietetics.
Load up at lunch with a mixed green salad topped with tuna, almonds, slices of avocado and balsamic dressing. Serve it with a bowl of low-sodium minestrone soup with whole-grain crackers and a container of nonfat yogurt.
Or, fill a whole-wheat pita with hummus, grilled eggplant, peppers and onions and serve it with a side salad, a bowl of mixed berries and a handful of walnuts.
An anti-inflammatory, gluten-free lunch might include a stir-fry of carrots, broccoli, bok choy with chicken or tofu sauteed in vegetable oil, ginger and garlic and served with brown rice.
Nutrient-Rich Dinner
For dinner on your inflammation diet, consider grilled salmon with roasted brussels sprouts and roasted new potatoes tossed on olive oil, rosemary and garlic.
Or, spice it up with a vegetable and tofu curry served over brown rice and a mixed green salad. You'll get a meal rich in nutrients and gluten-free.
Another healthy dinner meal might include tortillas stuffed with bean puree, chopped tomatoes and lettuce and served with salsa, corn on the cob and a spinach salad topped with walnuts.
Snacks for Inflammation
Snacks are an important part of any meal plan. Good anti-inflammatory options include fresh fruit or veggies, unsalted nuts, a container of nonfat Greek yogurt, whole-grain crackers with nut butter or steamed edamame.
Keep snack calories to 200 or less, suggests the Academy of Nutrition and Dietetics, to avoid overeating.