Although you might not consider it at first as a viable place to live, Alaska is more than just ice and snow. According to the U.S. Census Bureau, Alaska's population as of 2008 was more than 686,000. That's not to say the northern state isn't fairly uninhabited, averaging only 1.1 people per square mile. But if you do your research, you'll soon discover that Alaska's cities have a lot to offer. This guide outlines some of the best places to live in the 49th state.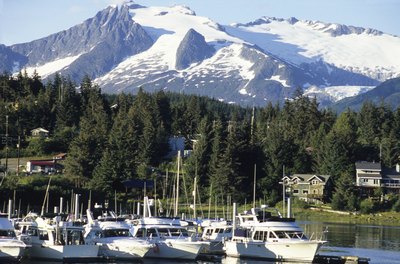 Kenai
If picturesque landscapes, snowy mountain ranges and cool, still waters are appealing to you, then you will probably love Kenai. Located along the northwestern segment of the greater Kenai Peninsula just a 30-minute flight from Anchorage, Kenai is a small town of a little more than 7,000 residents. For history buffs, the area boasts many remnants of native and Russian culture, many of which are housed at the Kenai Visitors and Cultural Center. The Kenai River runs right near town and is known as a world-renowned spot for king salmon fishing. For the money-minded, Kenai has a very modest sales tax of 3 percent. In addition, employment opportunities are fairly plentiful in industries such as oil, natural gas, fishing and tourism.
Anchorage
If rustic living isn't your thing, then Anchorage might be the city for you. Anchorage is the largest and most populated city in Alaska, claiming nearly 280,000 residents, according to the U.S. Census Bureau. It also has the most racial diversity of any city in Alaska, with a citizenry that is 6.3 percent African American, 5.5 percent Native American, 7.7 percent Hispanic and 6 percent Asian American. Median family income is about $83,000, while housing prices are a little pricey at $250,000. But job growth rates are strong at more than 17 percent over the last eight years. The air quality in the city is one of the best in the country for a metropolitan area of its size, and there is no shortage of things to do, with the city claiming more than 800 restaurants, 84 bars and 14 golf courses. If college is in your or your children's future, the University of Alaska-Anchorage calls the city home.
Fairbanks
If small but somewhat metropolitan life is what you desire, then Fairbanks is for you. Located about 360 miles north of Anchorage, Fairbanks is a reasonable-sized city of nearly 35,000 residents. Homes are still fairly affordable in Fairbanks, with the median asking price going at about $167,000. Cost of living can be high, but it is countered by the lack of a sales or income tax. There is also a fairly active arts scene with the city playing host to its annual Fairbanks Summer Arts Festival. In addition, the city boasts a Shakespeare theater, an opera theater, a dance theater, a symphony, a children's choir and more than 10 museums. As for employment, the state and federal government are two of the region's main employers, providing stable employment for many residents.