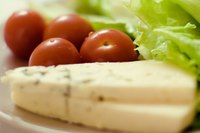 At times, the menstrual cycle can be unpleasant, especially when PMS comes around. Eating a healthy diet is important for your body, and can be just as important for menstrual cycles. By eating a healthy diet, you can make your periods more pleasant--and possibly eliminate the symptoms of PMS.
The Basics
The menstrual cycle is generally 28 days long. It starts with ovulation, when an egg is released from the fallopian tubes. After ovulation, the lining of the uterus begins to thicken, in anticipation of a fertilized egg. If fertilization does not occur, the uterine lining is shed, and that is what causes the monthly bleeding known as a period.
Premenstrual Syndrome
Many women experience premenstrual syndrome, better known as PMS. This occurs right before the period begins, and is usually accompanied by cramps, bloating, irritability, fatigue, food cravings, breast tenderness and headaches. Also, menstrual cycles can be irregular, which is frustrating for women who are trying to conceive. You can help to ease your PMS symptoms and regulate your cycle through a healthy diet.
How to Reduce Bloating
If you are experiencing bloating during your menstrual cycle, some changes in diet can help combat the bloat. Make sure you eat foods that have high amounts of potassium, such as bananas, cranberries, oranges, raisins, yogurt, dairy products, chicken, turkey and flounder. Keep your sodium intake down, as excess sodium will cause you to retain water. Drink at least eight cups of water per day to flush your body of electrolytes and excess salt.
How to Reduce Cramps
Cramps often occur due to high levels of estrogen. Your estrogen levels increase if you eat a diet high in fat, so try to cut down on the fat if you are experiencing painful menstrual cramps. Make sure you are getting enough calcium, as calcium deficiency can worsen the symptoms of PMS. Also, take it easy on the alcohol because it can exacerbate your pain and make you feel depressed.
Regulate Your Menstrual Cycle
If you have an irregular menstrual cycle, you might want to increase your fat intake. This might increase your risk for cramps, but if regulating your menstrual cycle is important to you, you might have to deal with the pain. Also, keep your fiber intake lower than usual because fiber can wash out the estrogen that is needed to regulate your cycle. Try to keep your weight at a normal level because too much weight loss or weight gain can affect your cycles as well. Large fluctuations in weight can even cause amenorrhea, which is when periods stop altogether.
Beneficial Foods
Certain foods can help ease menstrual side effects. Protein enhances fertility and balances hormones. Some protein-rich foods that may be beneficial to you are: walnuts, almonds, hard-boiled eggs, cheese, hummus, soy chips, canned sardines and peanuts. Vitamin D also helps your cycle, so feast on foods such as egg yolks, tuna, sardines and salmon. Another beneficial food you should have no problem eating is dark chocolate. Chocolate that is at least 70 percent pure can improve circulation and reduce platelet clumping.