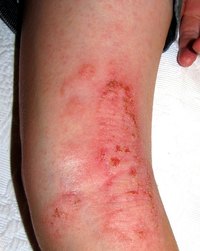 Infantigo, also known as impetigo, is an extrememly contagious skin disease that mainly affects infants and children. This disease manifests itself as a red sores on the face, usually in the region of the mouth and nose. Infantigo usually occurs when bacteria are introduced to the skin, although it has also been known to affect skin that is healthy. While this disease may look serious, it is actually very easy to treat.
Medical Treatments
There are several different ways in which infantigo can be treated. A doctor will usually look at a patient's medical history and the severity of the infection before making a diagnosis. For the mildest cases a doctor will probably recommend a hygienic approach to treatment. This will usually consist of keeping the area clean. Once the area is kept clean and the bacteria have been killed, the sores will usually scab over and begin to heal. If this does not work, your doctor may also prescribe a topical treatment. These treatments usually come in the form of antibacterial creams, which are designed to kill the bacteria associated with this infection. The downside of the topical creams is that you must remove any of the scabs that are on the sores so the medicine has an opportunity to get into the skin. Finally, a doctor may also prescribe an oral medication. These antibiotics are usually prescribed when the infantigo has become widespread. If is vital that the entire course of antibiotics is finished, even if the scabs are gone. This will help prevent the disease from returning and will keep the likelihood of antibiotic resistance from occurring.
At Home Treatments
There are also several treatments that can be done at home. The first one is applying a solution of one tbsp. of white vinegar to one pint of water directly to the skin. Soaking the skin in this solution will make it easier for the scabs to be removed. This remedy should be used to help remove scabs for the skin cream. Also, if the infection is very mild, wash the affected area and place an over the counter antibacterial ointment onto the skin. Pat dry after you have applied the ointment. Try to keep from picking at the sores and scabs until they fully heal as this may prolong the infection. Finally, in order to prevent the infantigo from spreading, apply a non-stick dressing to the area.