Orlando draws people from all over the world who are excited to see Walt Disney World, Universal Studios and SeaWorld. It's hard to beat the amount of choices to choose from for birthday fun; however, numerous places offer birthday specials. Whether you are in the mood for a little adventure or want some relaxation, Orlando has enough to satisfy your mood.
Gatorland
Built in the 1940s, Gatorland is a mix of the old Florida amusement park and wildlife refuge. As a cheaper alternative to other birthday locations, this park has two birthday packages meant to show kids a great time. The Gator Galore package includes admission for 10 kids and two adults, use of the Gatorland Party Pavilion, lunch, cake, free train rides and a season pass. The Gator Grunt Package includes admission for 10 kids and two adults, cake, season pass and 1-hour use of their party room. In addition, while at the park, party attendees can enjoy gator wrestling, a petting zoo, pathway throughout the park, water park and park performances. For kids interested in a career working with animals, the park offers a special program that allows a child to become a trainer for the day. Check to see whether Gatorland is the perfect spot for your kid's next birthday.
Skyventure
Skyventure is an indoor sky diving facility that simulates sky diving without jumping from a plane. You can experience the wind tunnel for an hour to get the same physical rush as actual skydiving. For birthdays, they offer an hour of sky diving, training from an instructor, skydiving gear, time with the instructor in the wind tunnel, a DVD of your experience and certificate. This basic package allows for 12 people. The sky diving experience is safe for children older than 3, and everyone under the age of 18 must have written permission. Get the thrill of skydiving for your birthday without the risk.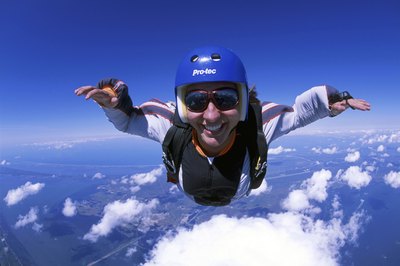 Disney and Universal Studios
Both Walt Disney and Universal Studios offer free admission for those celebrating their birthdays. Go to the link provided in References to register yourself or the person with the birthday. Print the confirmation message from your email. Two weeks before the birthday, Disney will send reminder. Make sure a valid identification card is brought with you to the park to confirm the birthday. Passports, driver's licenses and birth certificates are accepted. People older than 13 are allowed to register themselves or have an adult register for them. You also get a free birthday button when you enter the park.