If you have a round face shape, the widest part of your face is near your cheeks and ears. If you aren't careful about how you cut your bob, your hair will mirror your face shape, making it appear as though your face is wider than it really is. There are several ways to cut your bob, however, that will flatter your round face shape.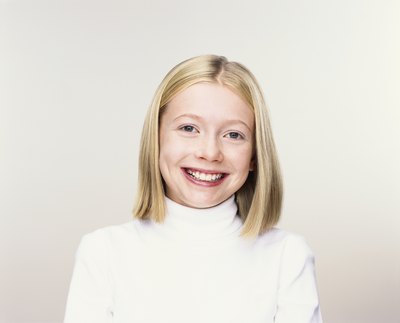 Layering
Layering your bob haircut is an easy way to ensure that the thickest part of your hair is not around your cheeks and ears, where your face is the widest. Ask your hairstylist to cut shorter layers on top of your head, and leave longer layers close to your face. At the top, where the most layers are, is where your hair will appear the thickest, and near your face, where there are fewer layers, is where your hair will appear thinner. This shape will make your face look longer and narrower than it really is.
If your layered bob ends at your chin, ask your hairstylist to cut the longest layers bluntly, or all one length, in order to draw attention to the bottom part of your face, which will also elongate the look of your face shape.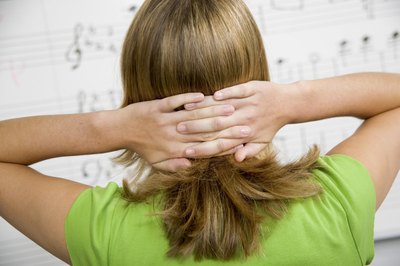 Length
A classic bob is chin length, but many people with round faces have trouble wearing chin-length hairstyles because it makes their faces look too wide. To avoid this, ask your hairstylist to cut your hair as if he were cutting a classic bob, but adjust the length. For most people with round faces, bobs that are slightly longer than chin length look best. Simply let the longest layers hang somewhere between your chin and your shoulders, and ask for a few more layers around your face, with the most layers on top of your head.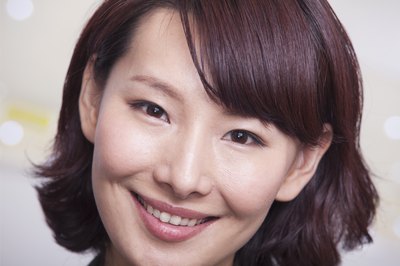 Styling
To style your bob so that it flatters your round face shape, begin by determining where you will part your hair. Side parts tend to reduce the look of roundness in the face, while middle parts tend to make the face look more round than it is.
Bob haircuts traditionally have ends that are flipped in, toward the face, or out, toward the shoulders. If you want to draw attention away from your round face shape, you will want to flip your ends out. To do this, use a round brush and curling iron to curl the ends out toward your shoulders and spray with a hairspray to set. To make your face look even longer and thinner, use a couple of hair pins to pin the hair around your face behind your ears.